Getting matching ink is a big commitment. If you have found the keeper, these unique couple tattoos are the perfect symbol of your bond.
Have you ever wondered why some couples decide to get inked together? Couple tattoos are not just skin-deep; they symbolize shared stories, emotions, and a connection that runs deep in the heart. Words can be forgotten, and rings can be lost, but tattoos are always there, reminding us of the love that binds us.
Thinking about getting couple tattoos, but not quite sure where to begin? In this post, you will find a massive collection of couple tattoos. Whether you're looking for a bold, symbolic love tattoo or a discreet but meaningful ink that tells your story, these tattoo ideas will inspire and delight you.
Beautiful couple tattoos with meanings
Common couple tattoo symbols at a glance
Below is a list of common love symbols for couples. Keep scrolling and see more couple tattoo ideas.
Simple and small couple tattoo ideas
True love is quiet and enduring, much like the subtle beauty of these simple and small couple tattoos. Whether you are a minimalist or looking for an understated expression of love, this collection will be a subtle yet profound statement of your relationship.
Plane tattoo for long-distance couples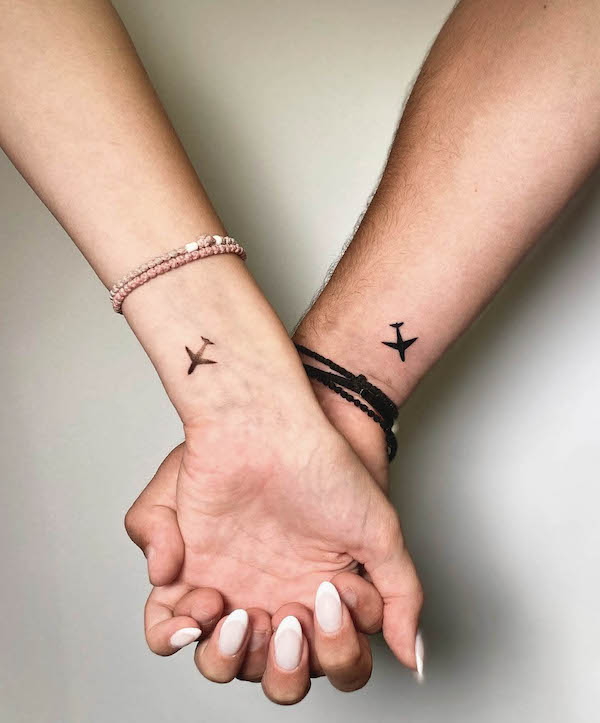 Depending on the design, airplane tattoos carry different meanings. For example, they can be a symbol of exploration and adventure. Or they can be about love.
These two matching tattoos fall into the latter category. For long-distance couples, planes mean reunion. And they are a reminder that they will always have each other no matter where they are.
Matching avocado tattoos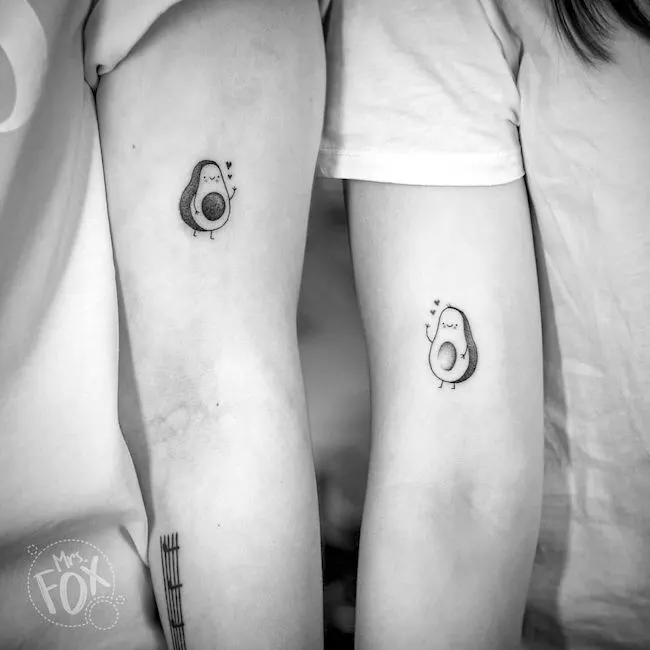 A pair of avocado tattoos are not just cute. They are visual reminders of a bond as unique as the fruit itself. If you've found your better half, these cute tattoos may speak to you.
Matching simple shark tattoos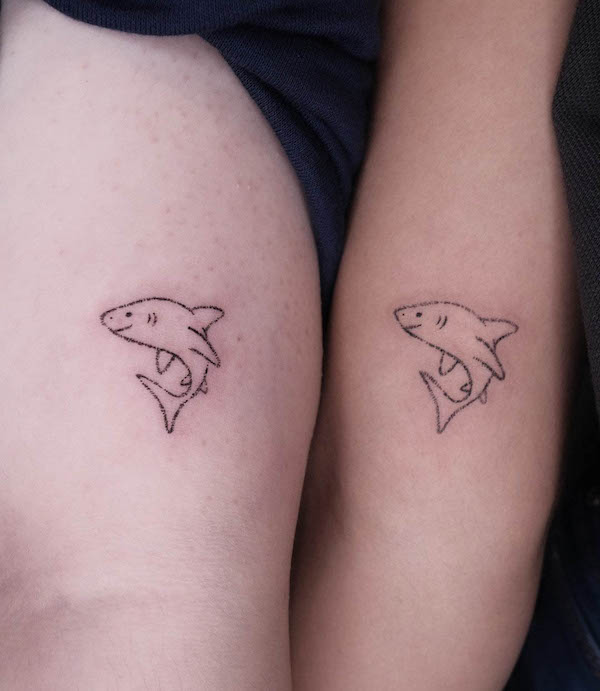 Like lions and tigers, sharks often represent a powerful pair and their unbreakable bond. These cute matching sharks are no exception, celebrating the connection in a lighthearted way.
King and queen finger tattoos to empower each other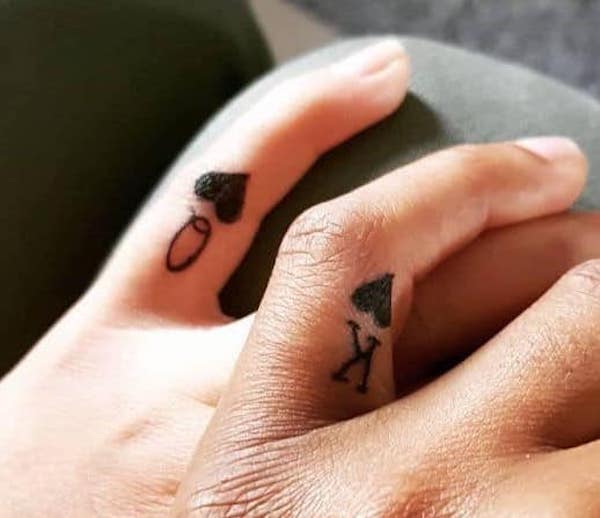 King and queen tattoos are evergreen because they symbolize not just power but the regal love between two people. These King and queen poker symbols on the inside of fingers are a unique twist on a classic design.
Husband and wife ring finger tattoos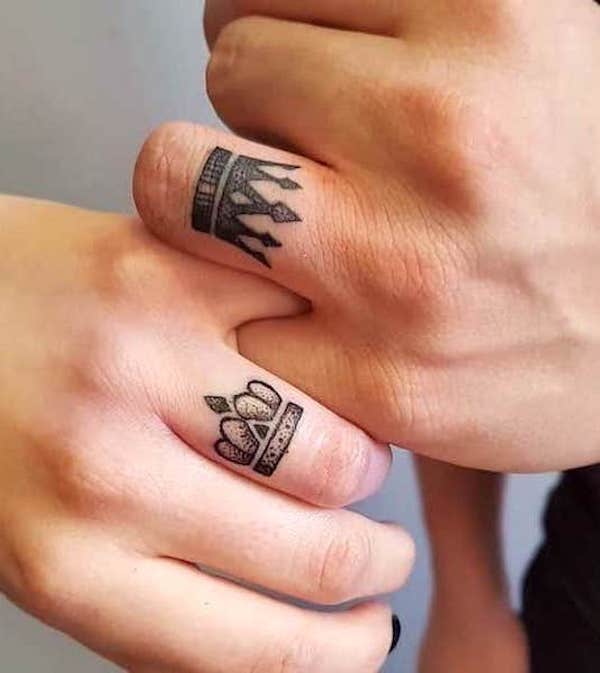 Here's another pair of king and queen finger tattoos. Unlike the previous ones, these designs depict small crowns as a symbol of their respect and loyalty to each other.
The connected finger tattoos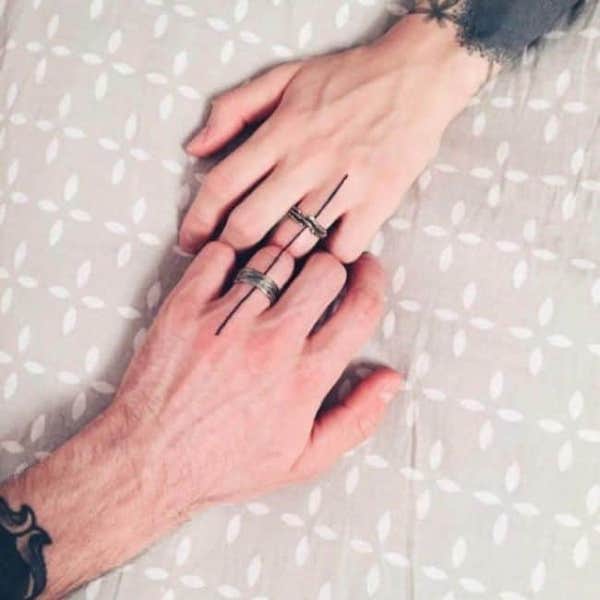 Tree wedding ring tattoos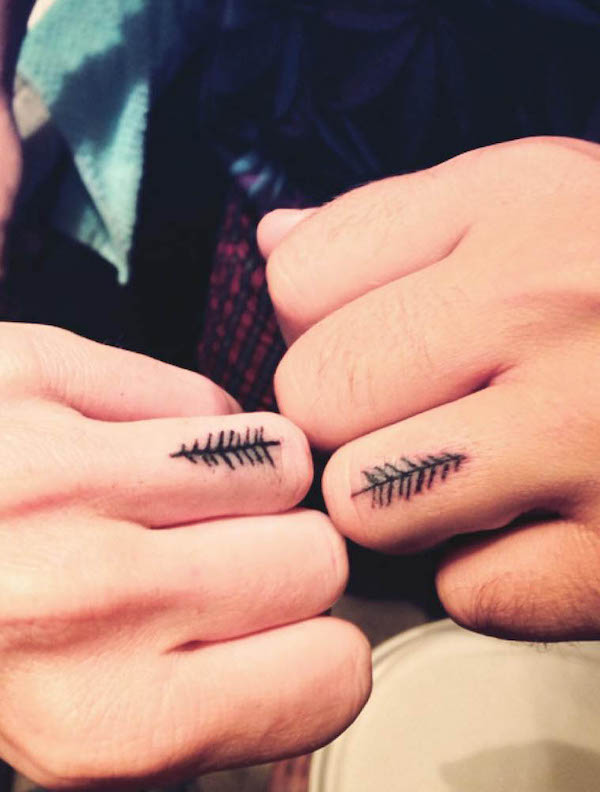 While the fingers may not have a lot of flat space to work on, these finger tattoos prove that creativity knows no bounds. The tiny tree tattoos are the perfect metaphor for the shared journey of the couple, adding significance to the design.
Straight-line thumb tattoos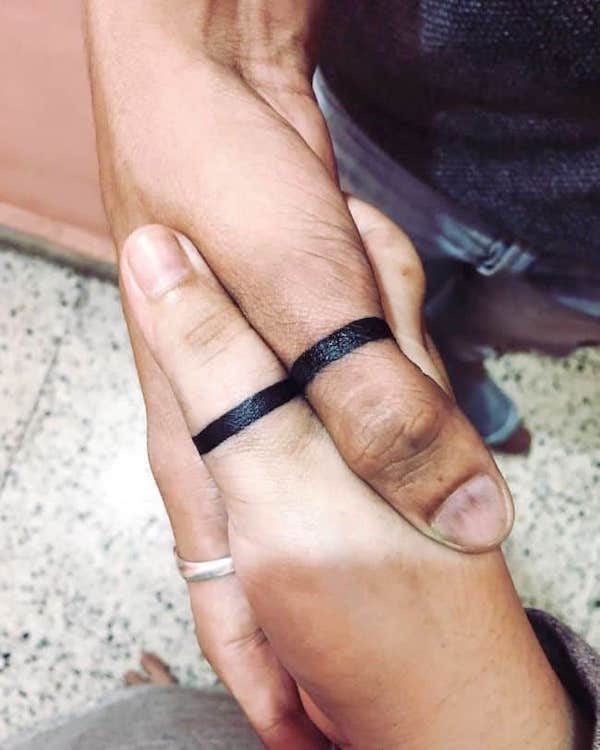 These matching line tattoos on the thumb are simple but not dull. The extra bold lines make a striking statement with their minimalism.
Wave and mountain matching ring finger tattoos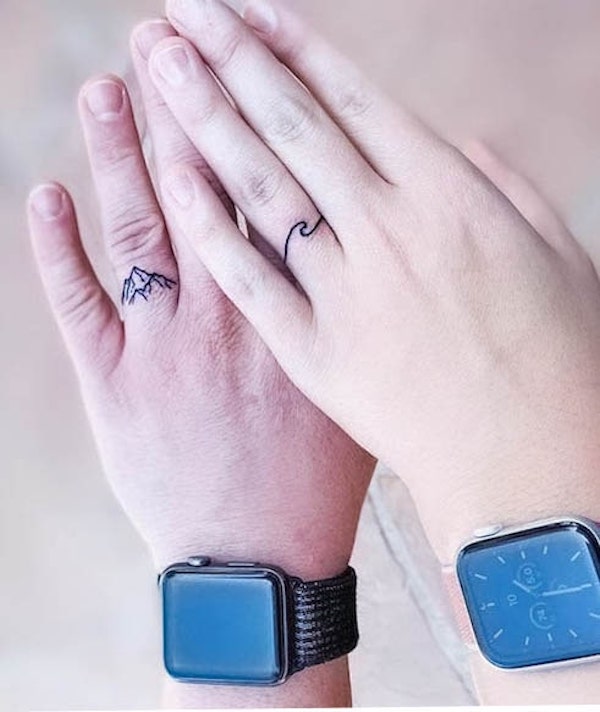 Matching couple tattoos don't have to be identical. With mountains on the husband's finger and waves on the wife, these tattoos showcase the couple's adventurous spirits that tie them together.
Heart rings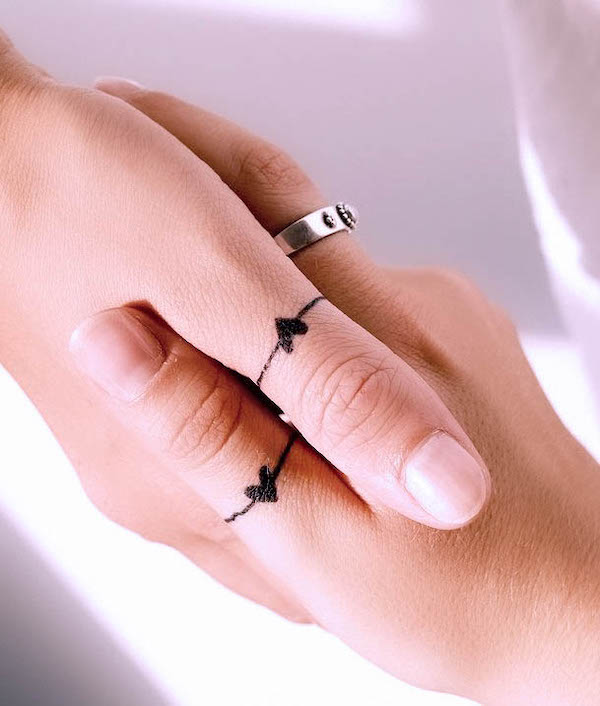 Special day finger tattoos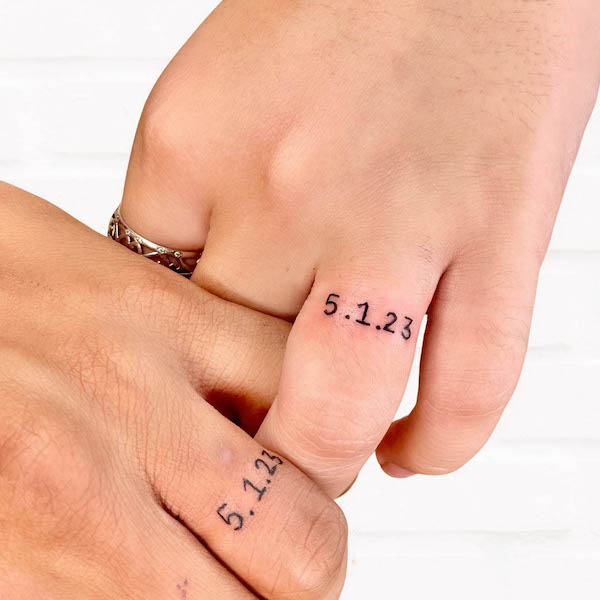 When you're in a relationship, there are countless special days to commemorate and celebrate. Whether anniversaries, first dates, or other significant moments, these date tattoos are a beautiful way to keep those memories close to your heart.
Small lightning finger tattoos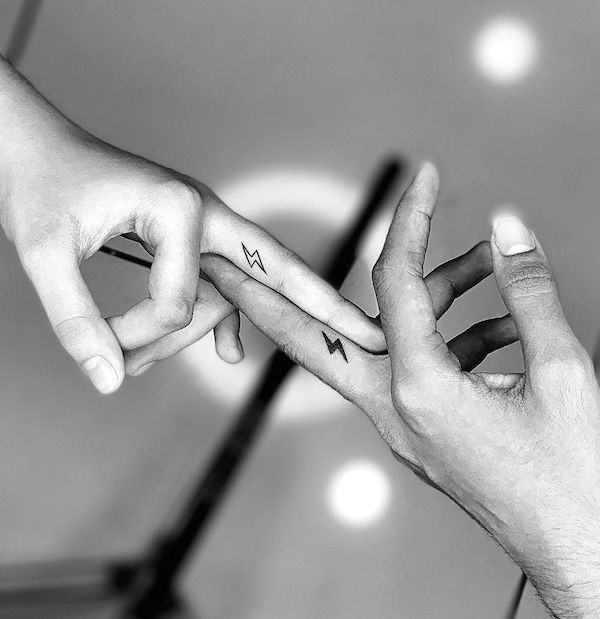 Lightning tattoos are often associated with power, the force of nature, and a fiery personality. These tiny bolts of lightning on the finger highlight the electrifying spark between the couple. Just as lightning strikes in the sky, these tattoos symbolize excitement and intense chemistry.
Matching zodiac finger tattoos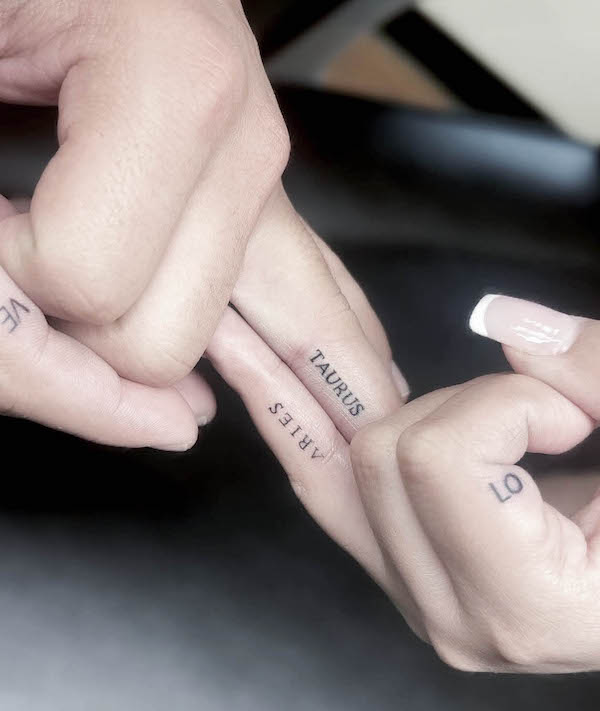 If you want a couple tattoo that is still meaningful on its own, these zodiac tattoos are a fantastic choice. With "Taurus" and "Aries" inked on the inner side of the fingers, you both carry a piece of your own identity, while together, they form a harmonious union.
Matching dragonfly wrist tattoos
Dragonfly tattoos are perfect for couples as they symbolize maturity and the journey one has to go through before that. They are a striking representation of a relationship that has matured and transformed over time.
Behind-the-ear dinosaur tattoos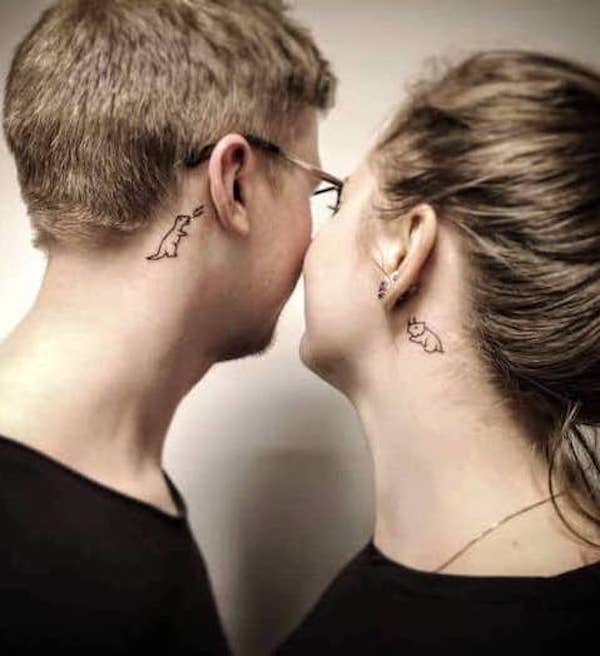 If you're seeking something understated and discreet, behind-the-ear tattoos may be what you're looking for. Take these small dinosaur tattoos, for example. Inked in this hidden location, they offer a playful and personal touch only revealed when you choose to.
"Cherish" one-word tattoos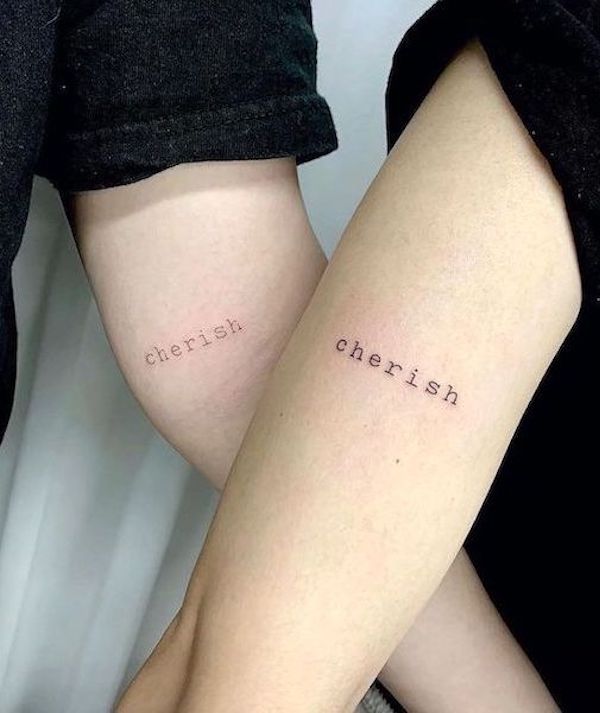 Sometimes, a single word says a million things. If they are a keeper, these matching one-word tattoos are a beautiful way to express the depth of your love.
Forever finger tattoos for couples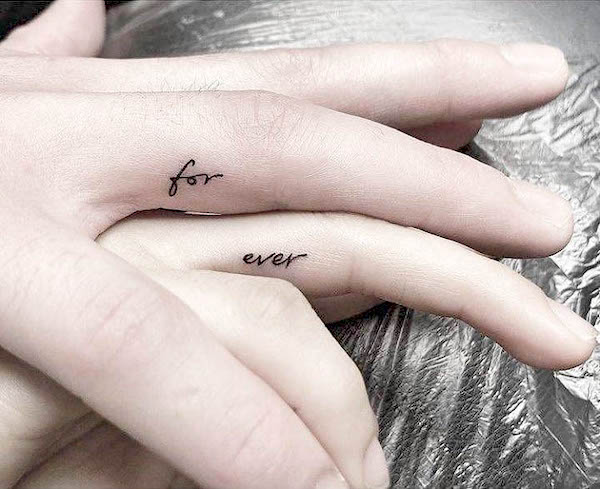 By splitting the word "forever" into a pair of matching tattoos, the tattooist creates a simple yet creative message on the fingers. They are a visual representation of the unbreakable bond. And when joined together, they are a testament to a love that stretches beyond time.
You are my soulmate quote tattoos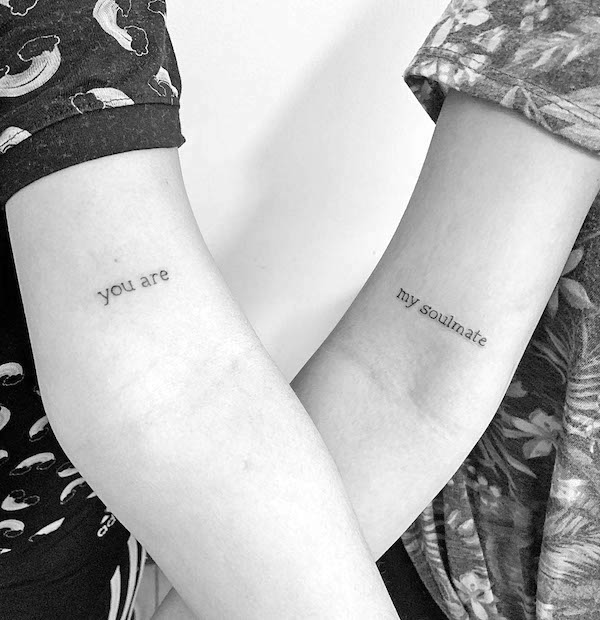 Instead of breaking a word into two halves, these designs split a line into two tattoos. With one saying " you are" and the other saying "my soulmate," these quote tattoos represent a soulful connection.
Soulmate wrist tattoos for couples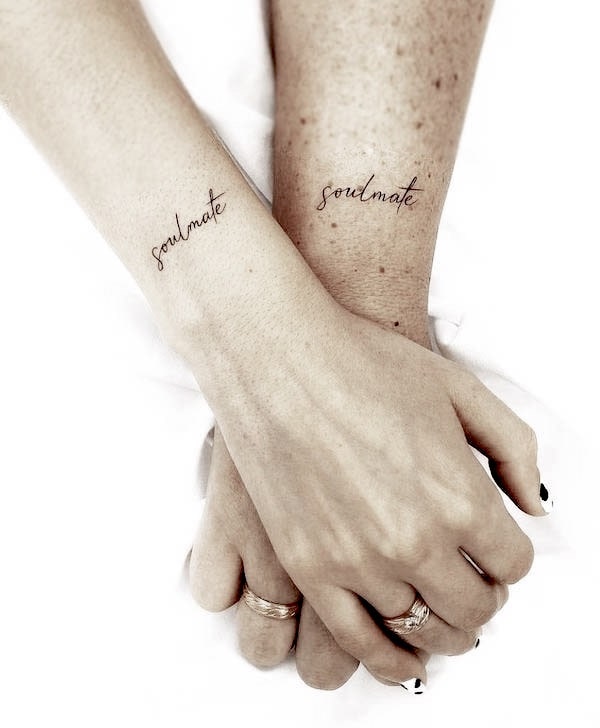 Keep your mind. Keep your time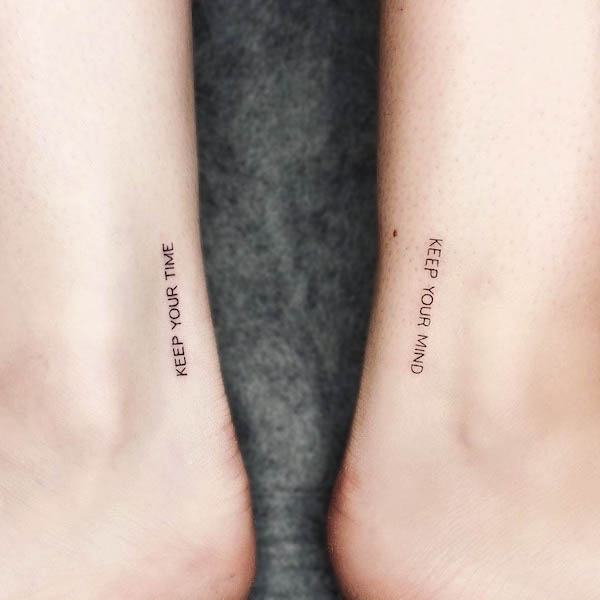 Arrow to the heart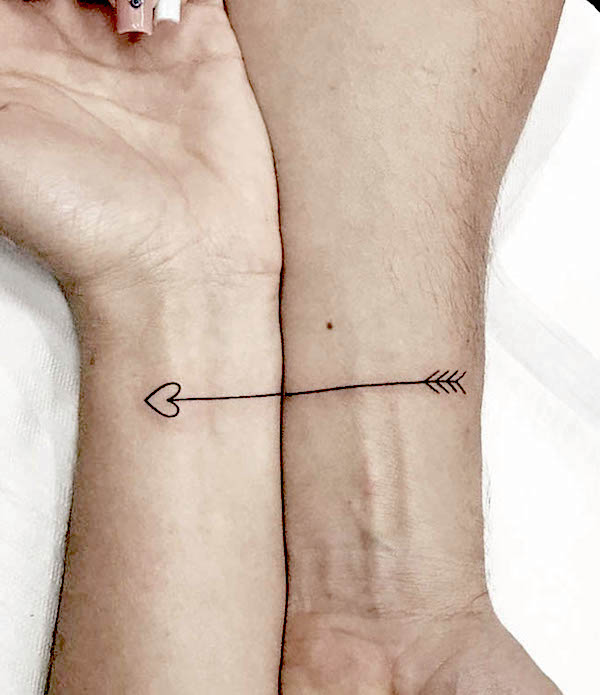 Minimalist bracelet tattoos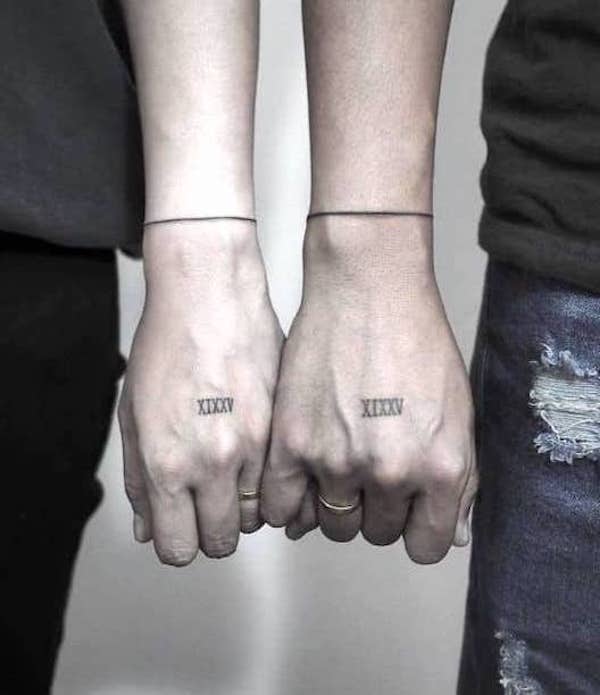 Bracelet tattoos refer to ink that wraps around the wrist like a watch. While they often consist of flowers, leaves, vines, and other intricate elements, these single straight lines offer a minimalist and modern take on the classic concept.
Small triangle tattoos for couples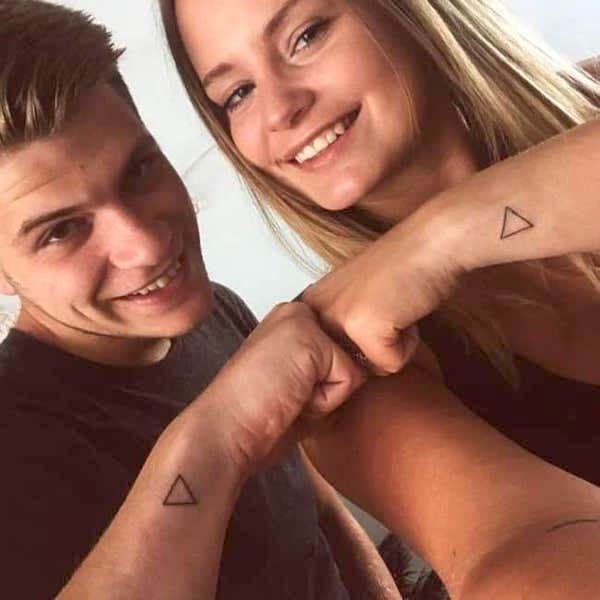 While triangles may seem simple, they are among the strongest and most enduring geometric structures. These matching triangles on the wrist are a beautiful symbol of a solid and resilient relationship.
Simple and cute tattoos for lovers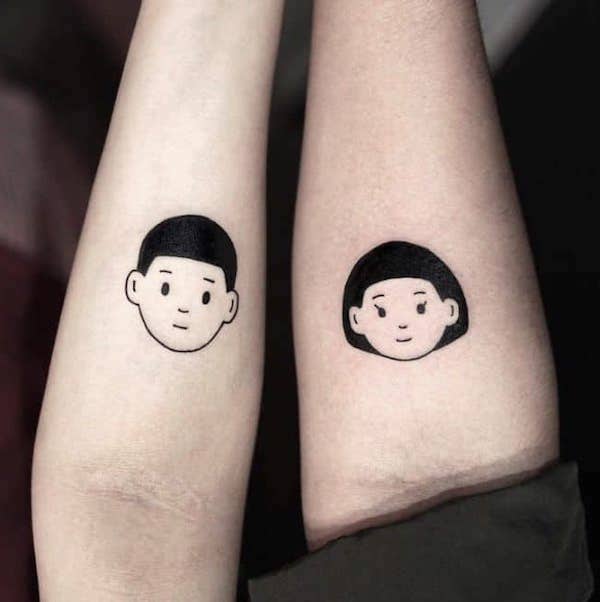 Four-leaf clover shoulder tattoos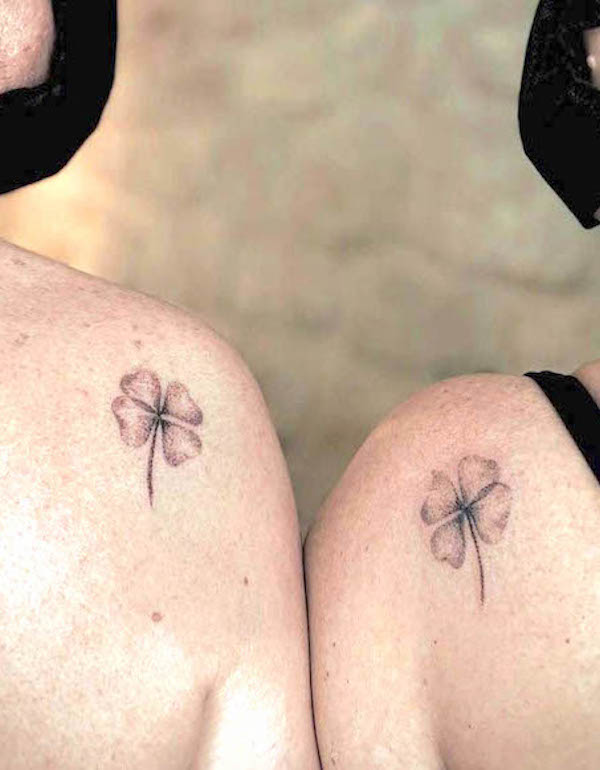 Four-leaf clovers are rare compared to clovers with three leaves. Therefore, four-leaf clovers represent luck and faith. And matching four-leaf clover tattoos not only tell others how rare your relationship is. They will also bring luck to both of you.
Bees tattoos for family people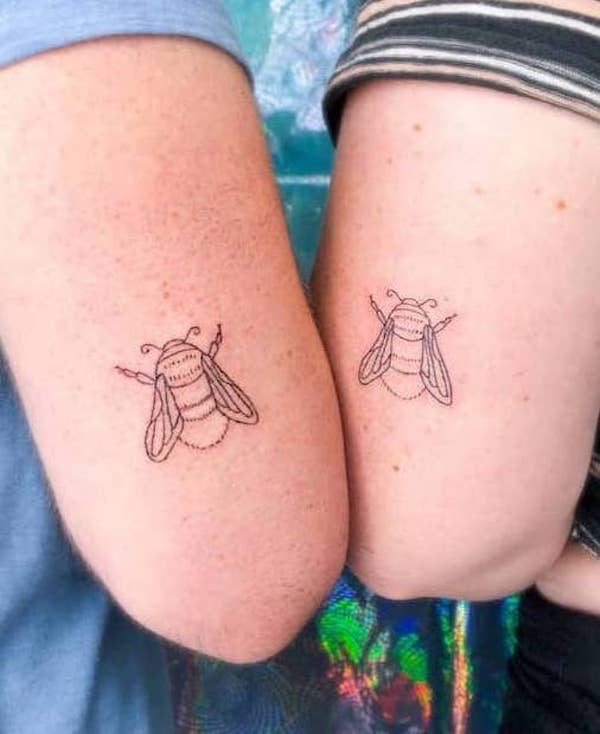 Bees stick together throughout their lives. Each member has their duty, and they communicate in their own language. As small as they are, together, they form a functional and unbreakable unity. If you are searching for a subtle yet empowering representation of your relationship or family, these bee tattoos will speak to you.
Creative and unique tattoos for couples
Couple tattoos are not always about heart shapes and clichés. If you're searching for something fresh and inspiring to represent your one-of-a-kind relationship, these creative and unique couple tattoos are the perfect choice.
Heart and brain tattoos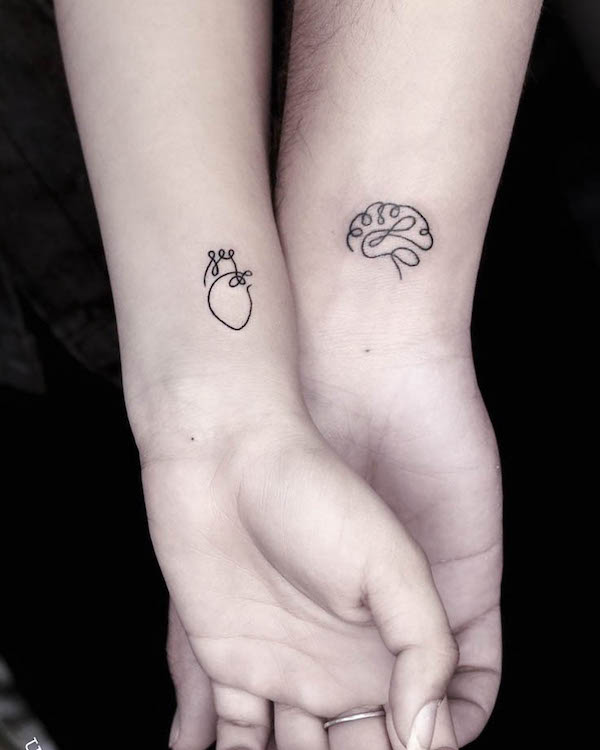 Do you operate by intuition or logic? These heart and brain tattoos beautifully capture the different personalities of a couple. And the polarities make them a perfect match, supporting and complementing each other.
Dragon Ball couple tattoos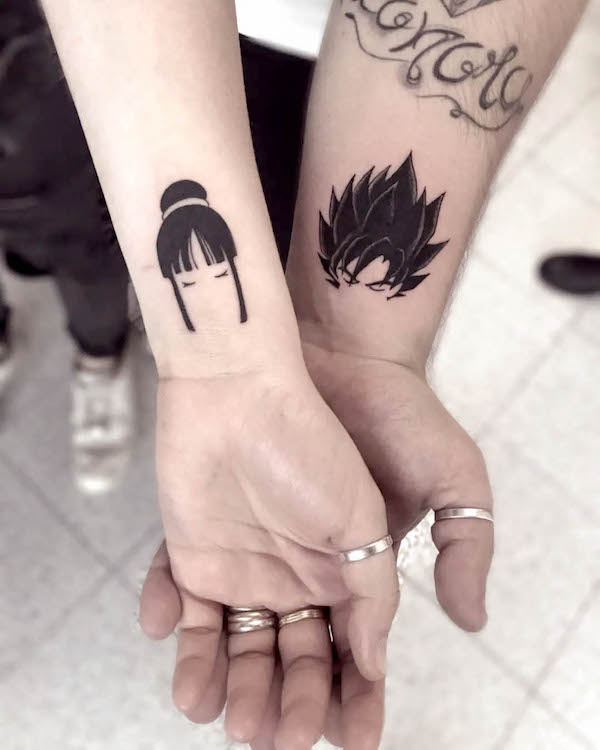 Want a pair of tattoos that bring you back to the good old times? These Dragon Ball matching ink designs might do the trick. They are the perfect way for couples to celebrate their shared love for this iconic series while reliving the moments that brought them together.
Elephant and butterfly matching tattoos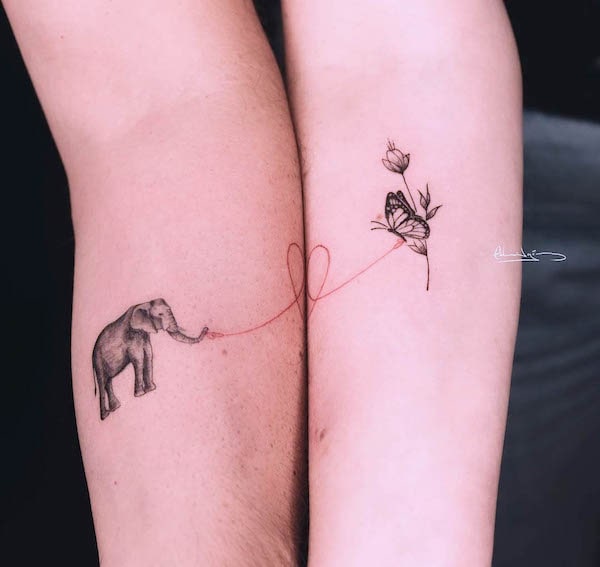 The caring nature of elephants makes them a symbol of protection, loyalty, and family bonds. Butterflies, on the other hand, represent transformation and beauty. These hearty designs connect the two seemingly unrelated elements, symbolizing a love that is both nurturing and ever-evolving.
Matching butterfly wrist tattoos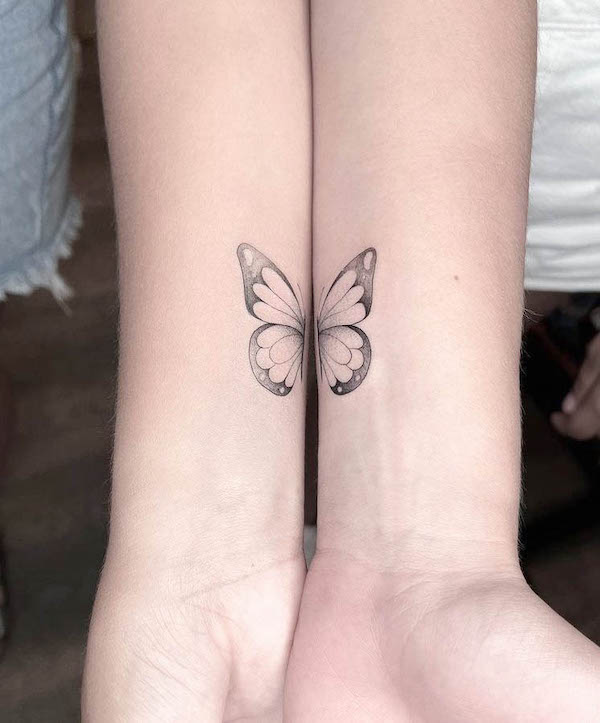 Connected lines matching couple tattoos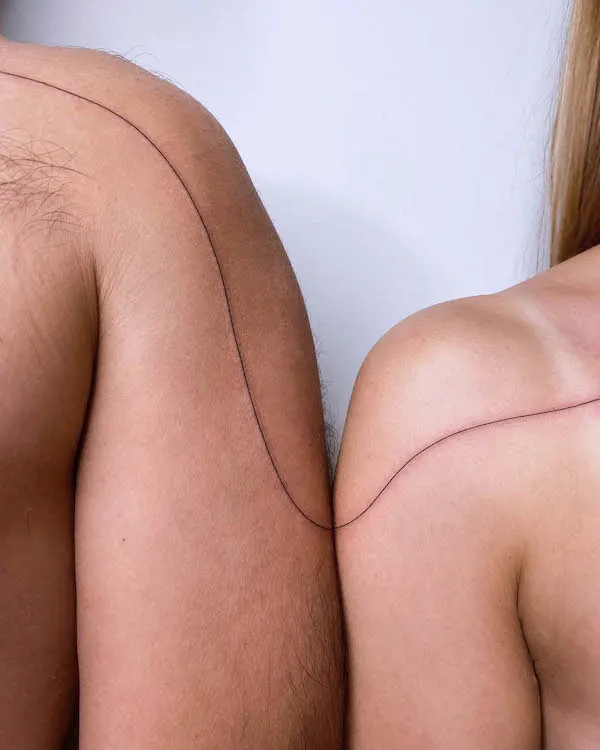 Different from most single-line tattoos that are minimalist and understated, these connected lines will definitely capture your attention. Their seamless connection makes it a romantic tribute to their unbreakable bond.
Stunning turtle tattoos for couples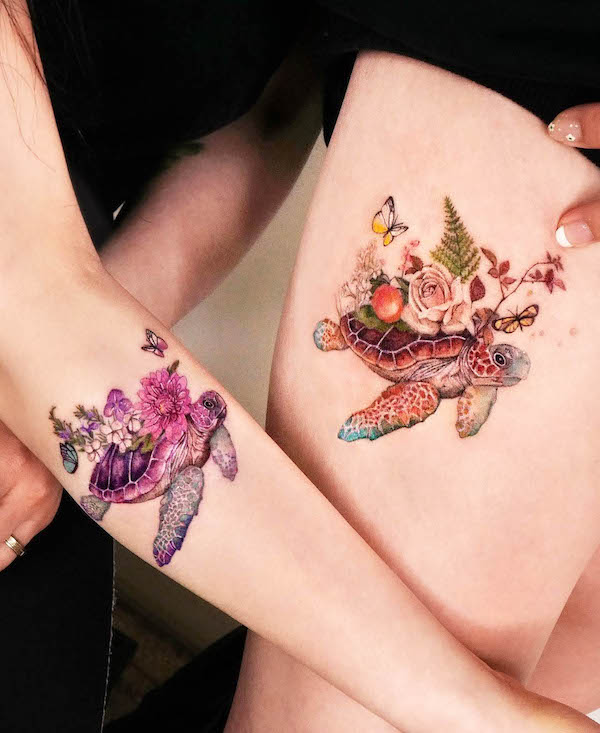 Turtles are often associated with longevity and wisdom. If the spirit animals of you and your partner are both turtles, these stunning turtle tattoos will inspire your next ink.
Matching manta ray tattoos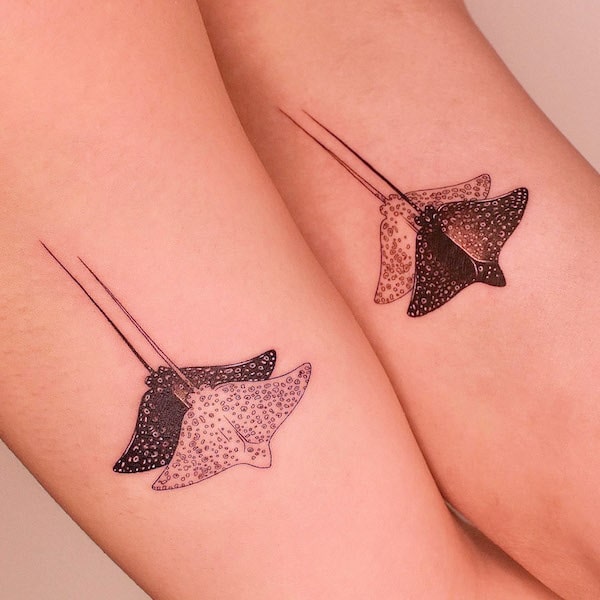 Matching lily tattoos for couples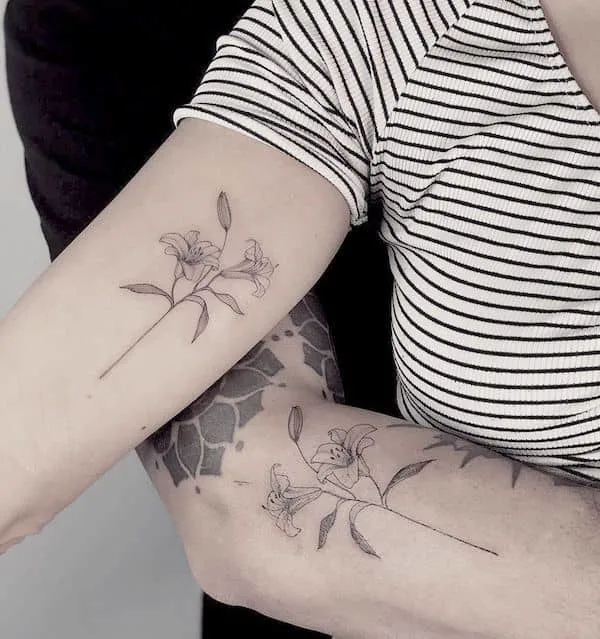 While flower tattoos are often considered feminine, these matching lily tattoos prove that floral ink can be both delicate and powerful.
Socket and plug matching tattoos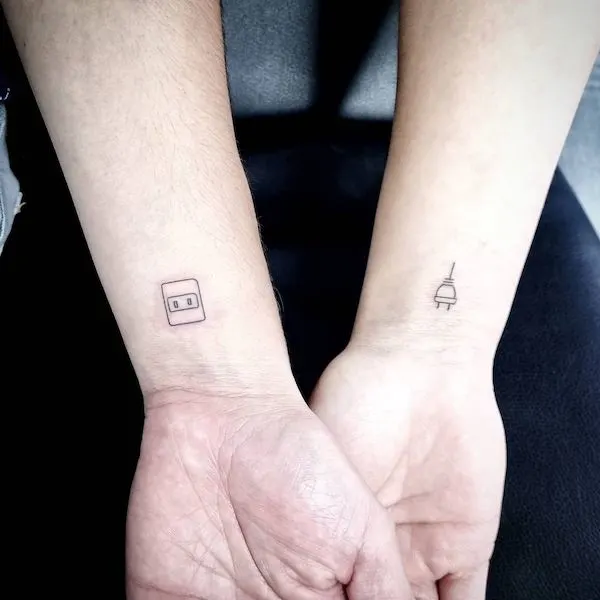 Not all couple tattoos are kings and queens or matching hearts. These small tattoos of a socket and a plug tells the world about a match made in heaven in a lighthearted way.
Chinese zodiac matching tattoos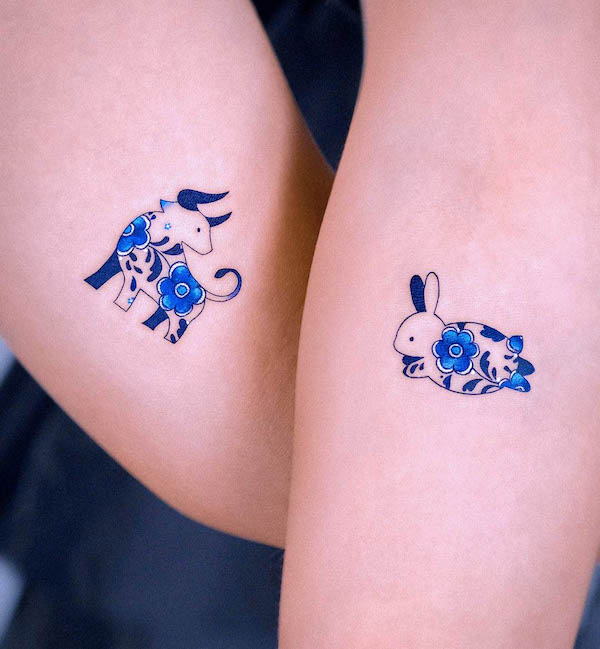 Like Western astrology, Chinese zodiac signs offer unique insights into a person's character and compatibility. These matching bull and rabbit zodiac tattoos celebrate the love between the two and also their individualities.
Chinese character tattoos for husband and wive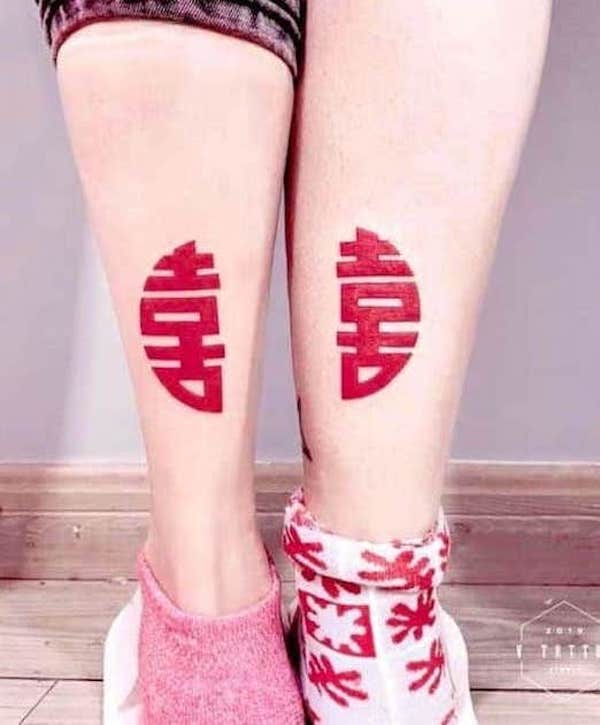 The Chinese character "囍" means happiness. The word is often seen in traditional Chinese wedding decorations. These bold red Chinese tattoos represent the wishes for the joy of marriage to last forever, perfect as husband and wife tattoos.
Simple yin yang couple tattoos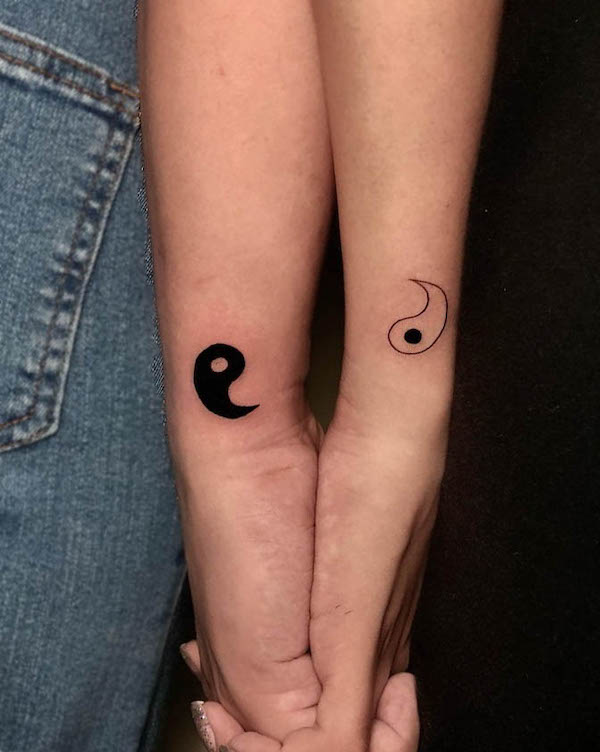 In Chinese philosophy, yin and yang represent the dualistic balance of opposing forces and the interconnectedness of all things. These matching yin-yang tattoos beautifully capture this concept and showcase the bond between the couple.
Oriental matching yin and yang wrist tattoos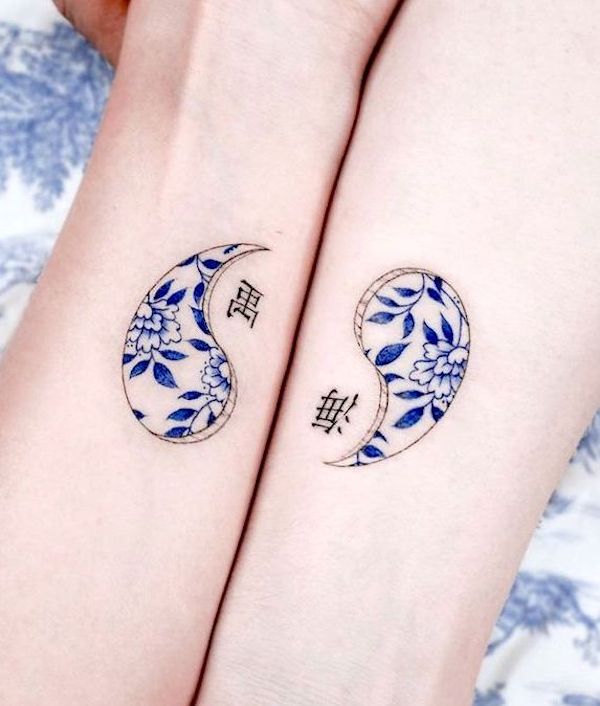 Another pair of yin and yang tattoos on the wrist. But unlike the previous ones, these oriental tattoos are adorned with porcelain patterns, reflecting the wearers' style and cultural heritage.
Moon and stars matching tattoos for couple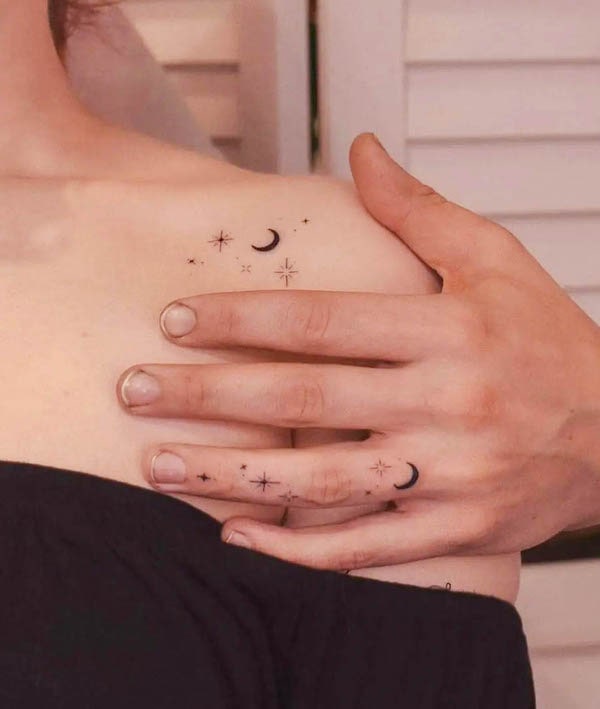 Moon and star tattoos are great ideas for couples because they symbolize a deep and enduring connection. Moon tattoos represent femininity, intuition, and the ever-changing cycles of life. Stars, on the other hand, are a symbol of guidance, dreams, and eternal love.
But what makes this pair stand out is the different placements. They prove that couple tattoos don't have to be on the same spot on the body, and differences can be beautiful, too.
Matching lion one-line tattoos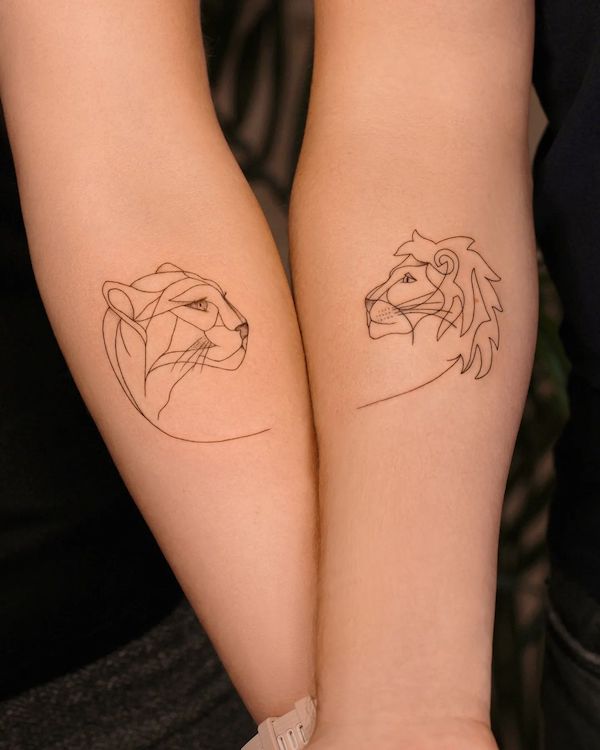 Sophisticated yet deeply meaningful, these matching one-line lion tattoos are a testament to the intricacy of love and the power of each individual.
Gemstone sun and moon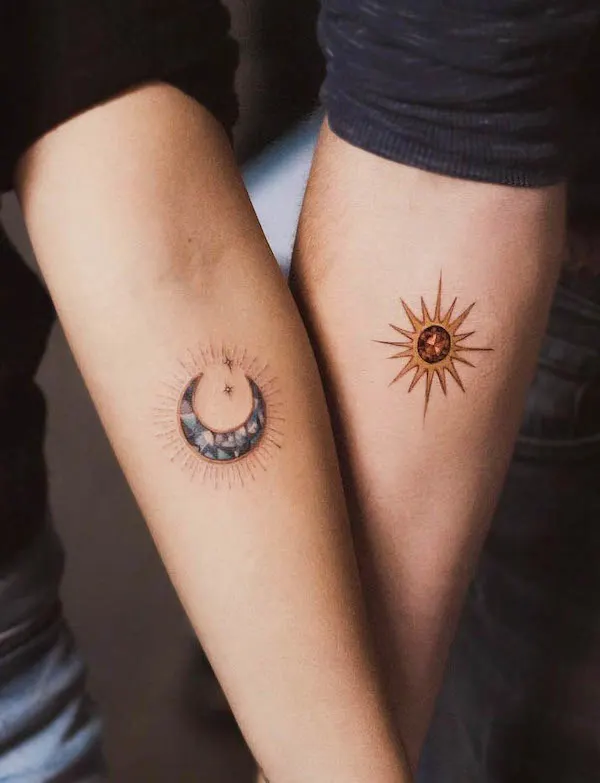 The sun and moon often symbolize two contrasting yet complimentary forces. What makes these matching sun and moon tattoos stand out is the gemstones embedded in the symbols. With the blue and red colors, these beautiful designs honor the bond and individuality of the couple.
Matching waves and mountains landscape tattoos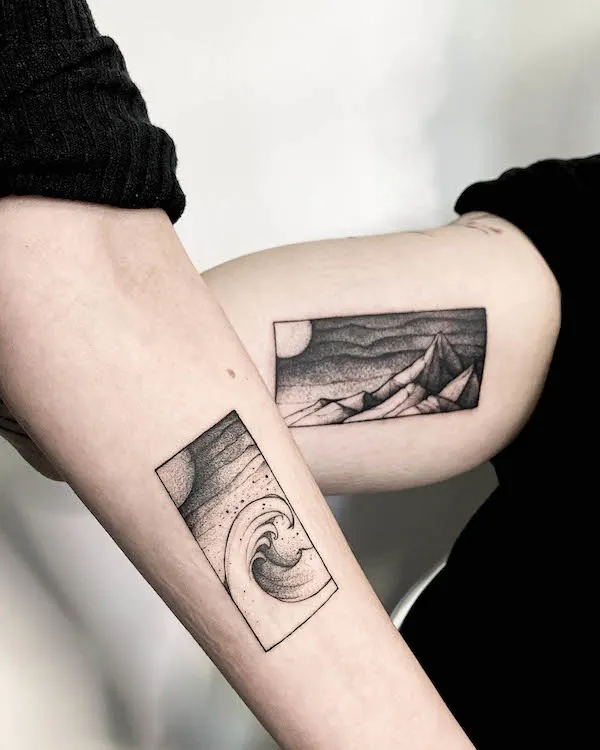 While many couple tattoos focus on the connection, these landscape tattoos highlight the different yet complimentary sides of the duo. Waves and mountains are both nature's creations. But one is soft, and the other is tough. They remind us that love thrives not only in similarities but also in the beautiful interplay of differences.
A bow straight to the heart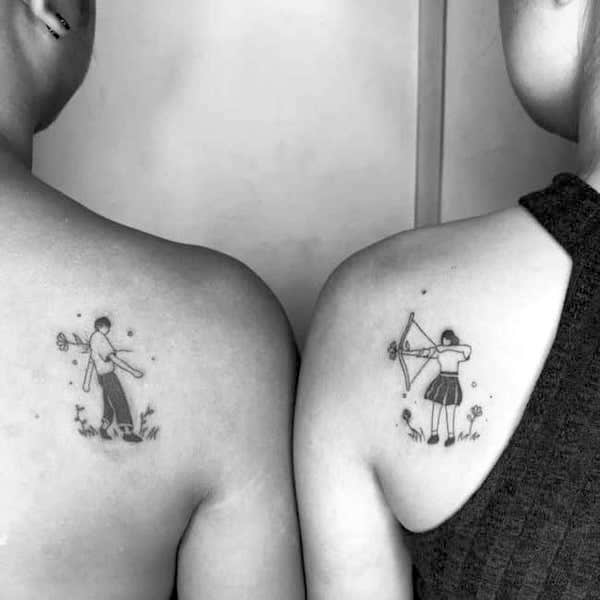 How cute are these matching shoulder blade tattoos? With the girl shooting an arrow straight to the boy's heart, the playful designs are a delightful expression of affection and love.
Matching snake music tattoo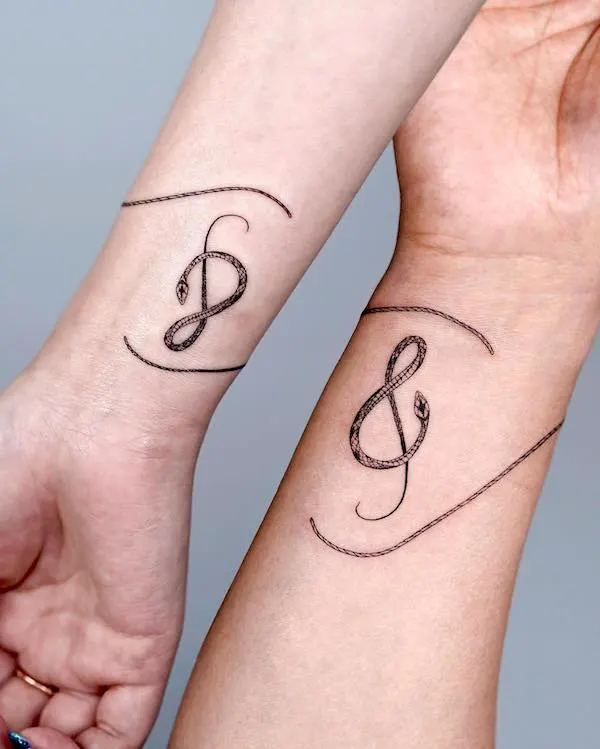 Snake tattoos often represent mysteriousness, rebirth, and even greed. These matching wrist tattoos, however, add a new meaning by transforming the serpents into notes, symbolizing the couple's shared passion for music.
Star Wars tattoos for lovers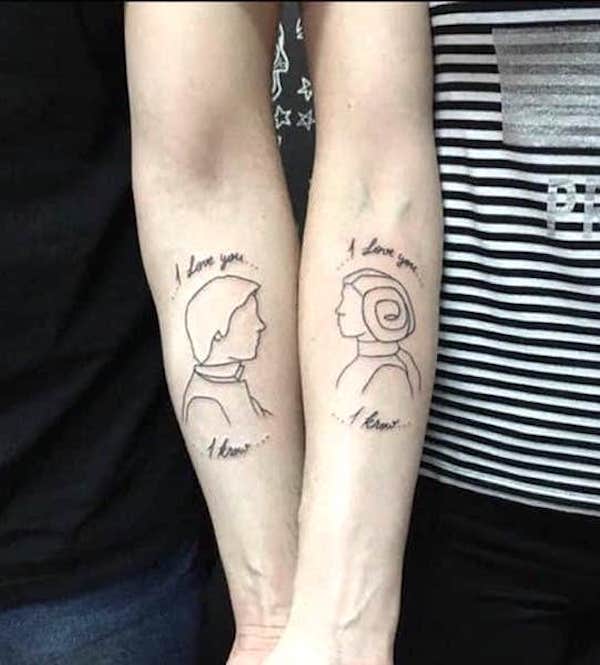 If you and your Significant Other are both fans of Star Wars, these matching tattoos of Han Solo and Princess Leia​ are a perfect way to showcase your shared love for the epic saga.
Never apart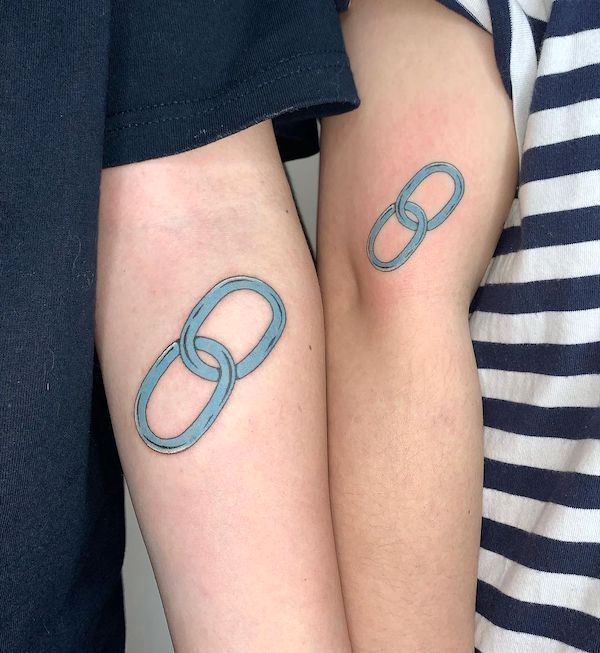 While knot or chain tattoos often represent restraint and limitations, they take on a different meaning when used as couple tattoos. They represent an unbreakable bond between two individuals and their commitment to each other.
Water dragon full sleeve matching tattoos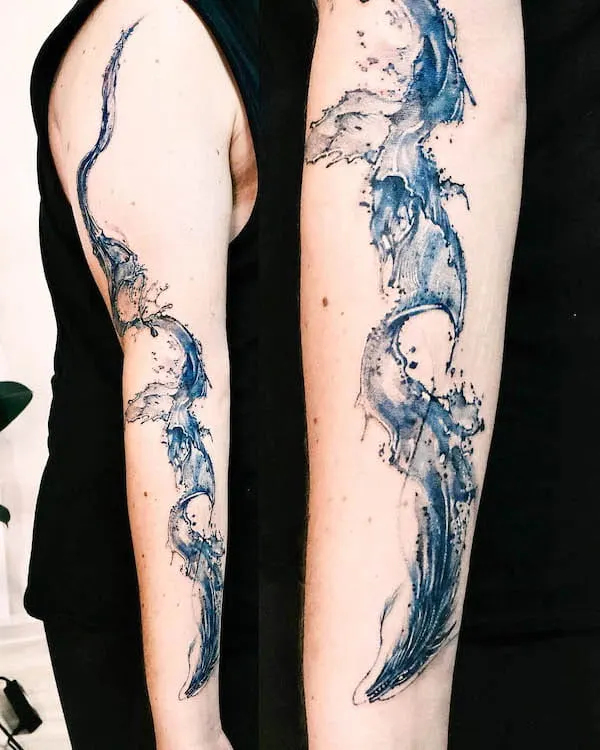 Unlike flowers, which lean toward the feminine side, water and dragons are more gender-neutral. These dragon tattoos blend the two elements perfectly, creating a powerful expression of love and strength.
Beauty and the Beast tattoo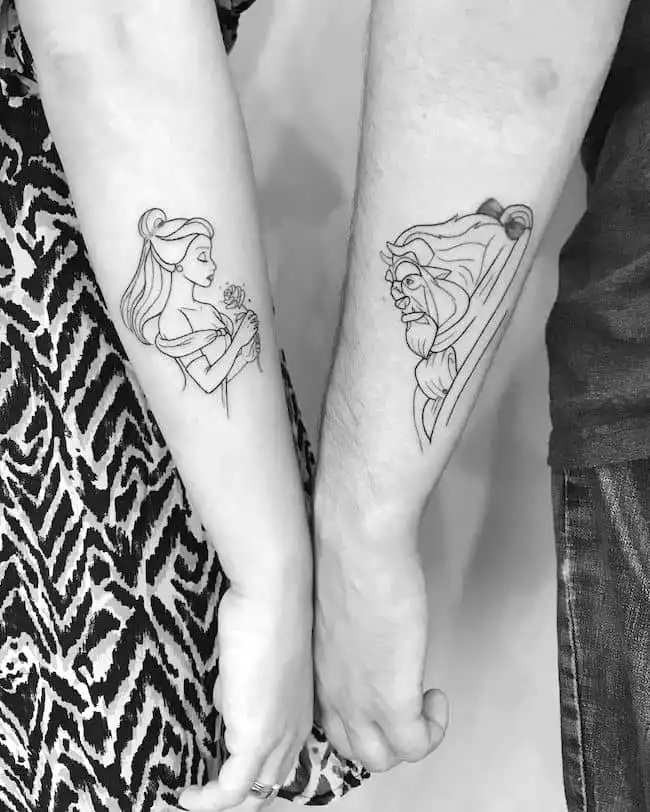 Tale as old as time. Beauty and the Beast is one of the most beloved stories in Disney's history. In these Disney tattoos, Belle and Prince Adam are illustrated in sleek lines, celebrating the unwavering love between the two in an elegant way.
The orbit tattoos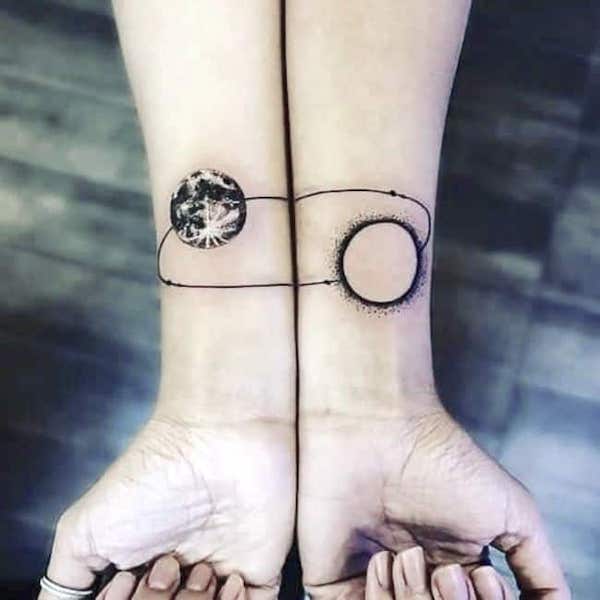 Just like the earth goes around the sun, love is like gravity that pulls lovers towards each other. These matching orbit tattoos on the wrist beautifully encapsulate this idea, reminding us that love is the guiding force in our lives.
Matching couple tattoos inspired by your favorite moment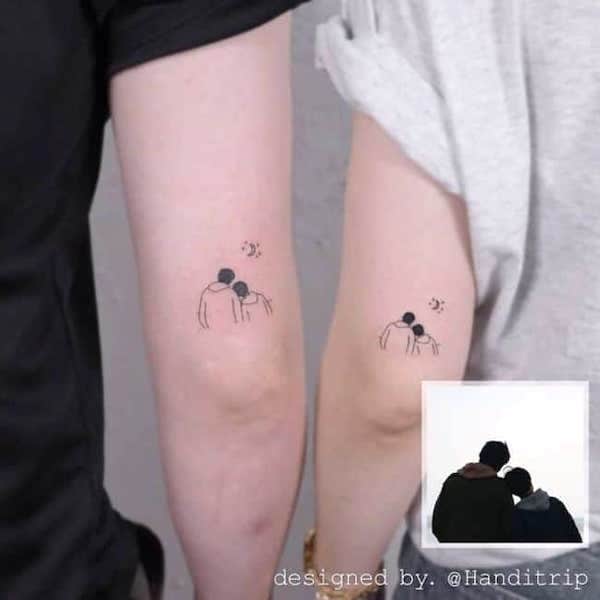 One way to create a unique tattoo is to turn a photograph into ink. These matching arm tattoos are the perfect example. Depicting a sweet moment of the couple leaning on each other, these tattoos turn it into permanent art that tells their story,
The Pulp Fiction matching tattoo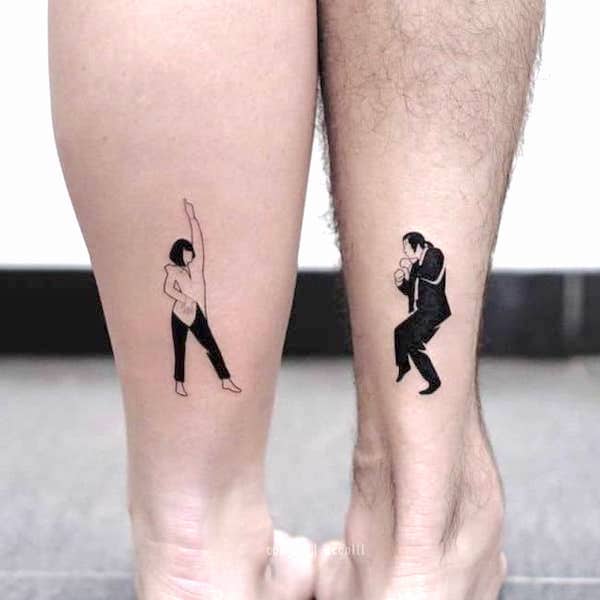 A common interest makes a great theme for your matching tattoos. If you are both fans of the classic movie Pulp Fiction, consider these cute tattoos replicating the Mia and Vincent dance as your next ink.
Super cute couple tattoos
While couple tattoos can be hopelessly romantic, they can also be fun and cute. Sometimes, it's all about sharing a laugh, celebrating shared interests, or letting your playful side shine. Sounds like you? Then don't miss out on this collection of cute couple tattoos that will melt your heart.
Matching campervan tattoos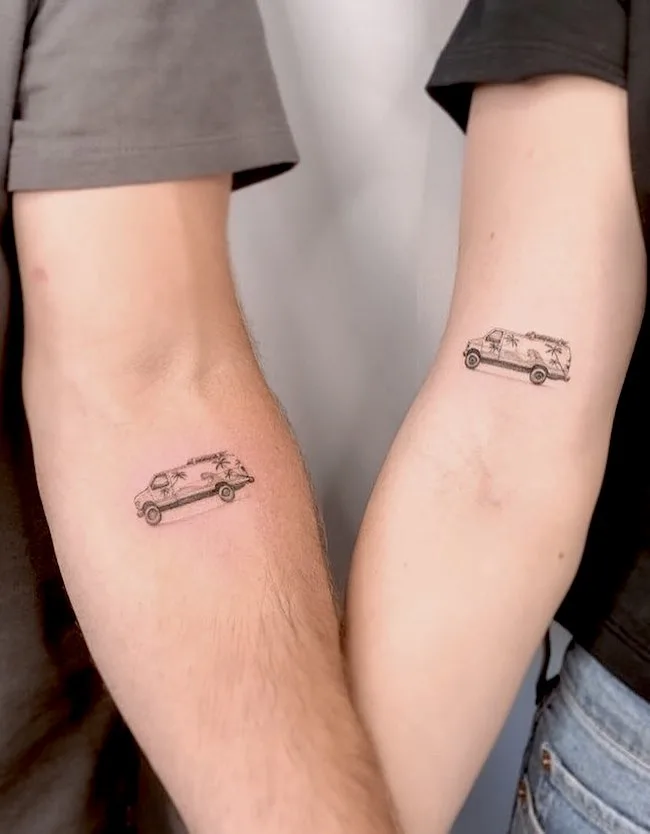 Campervans are a symbol of the nomadic spirit, making them the perfect tattoos for travelers. If you and your partner are both wanderers at heart, these matching campervan tattoos are a testament to your shared passion for adventure.
Rapunzel and Flynn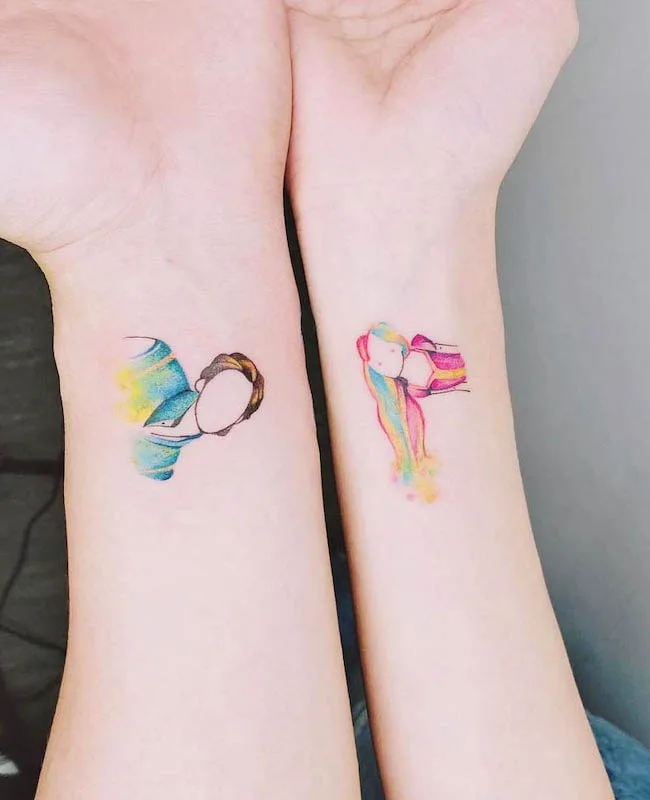 Rapunzel and Flynn, two Disney cartoon characters that have whisked us away on magical adventures. These matching Rapunzel tattoos on the wrist don't just capture our hearts with the long hair. The stunning colors weave a tale of love, courage, and self-discovery.
Wine and glass tattoos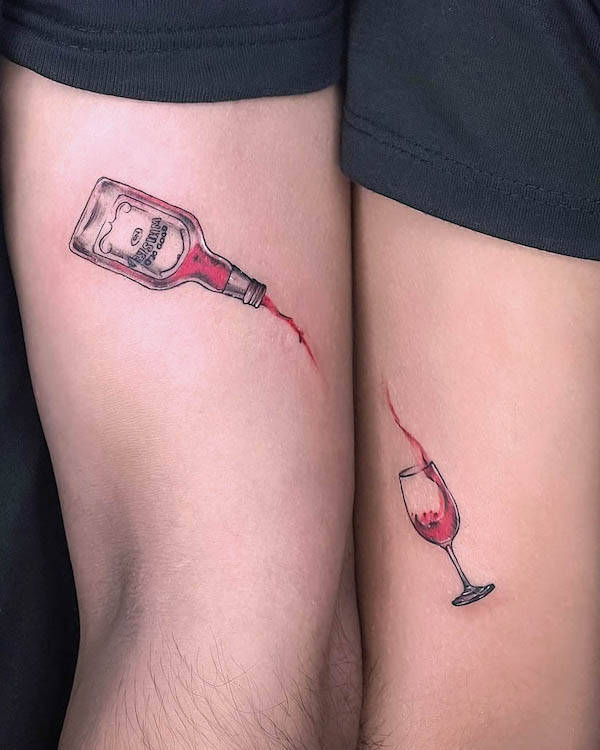 Do you and your Significant Other love a good drink? These matching tattoos beautifully depict the love for wine, with one arm pouring the wine into a glass on the other arm.
Cute matching cat tattoos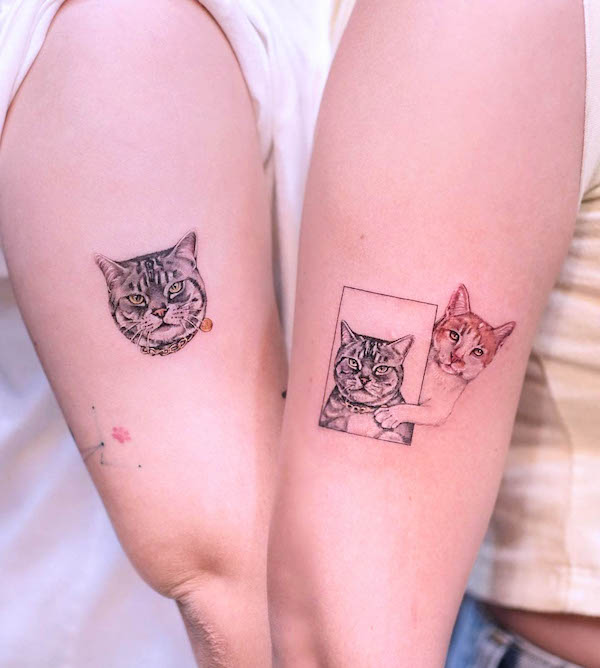 These matching cat tattoos are just here to melt hearts. Playful, fun, and creative, they not only represent the love the owners have for their pets but also showcase the humor in their genes.
Cute Pokémon tattoos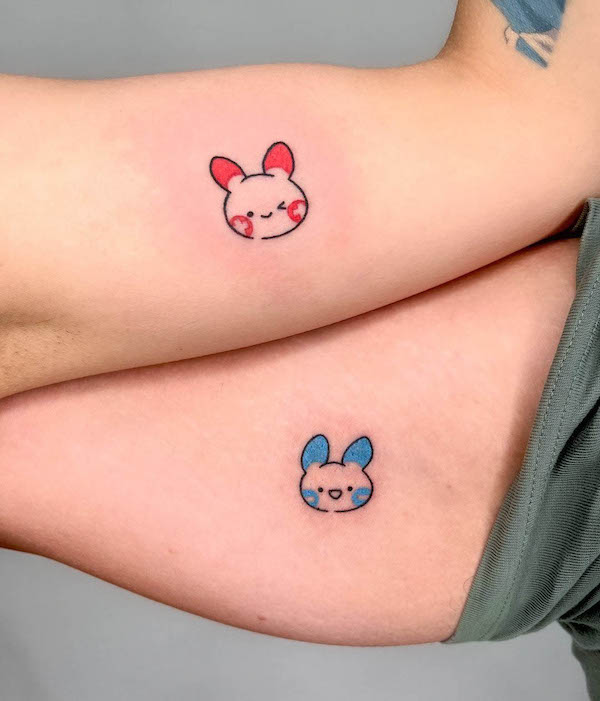 Minun and Plusle are among the cutest in the Pokémon universe, known for their charming and positive energy. With such adorable matching ink, these tattoos showcase the joy each partner brings to another.
Soot sprites Spirited Away couple tattoos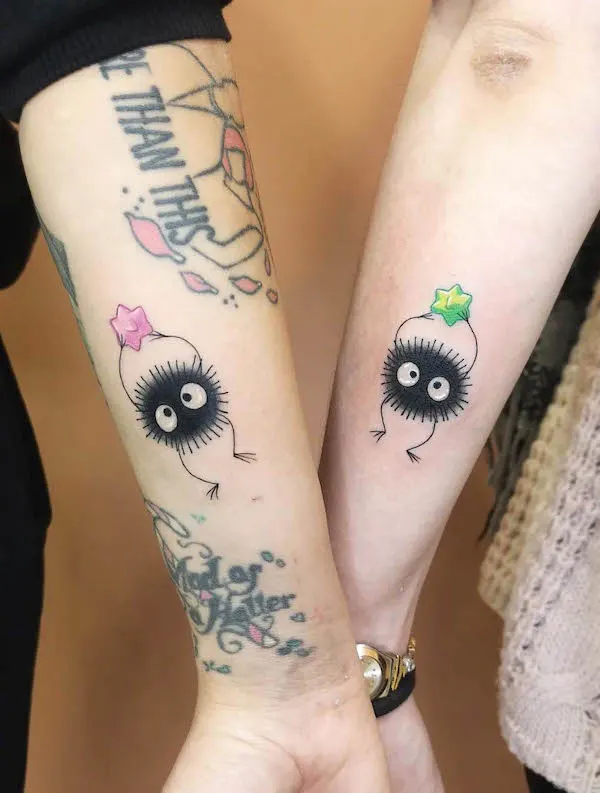 Probably the cutest characters in the Japanese anime Spirited Away, soot sprites are the small insects that carry coal into the burner in the bathhouse. They are considered less important and at the bottom of the house's hierarchy. But their kindness is bigger than their size.
Fun Tetris tattoos on the wrist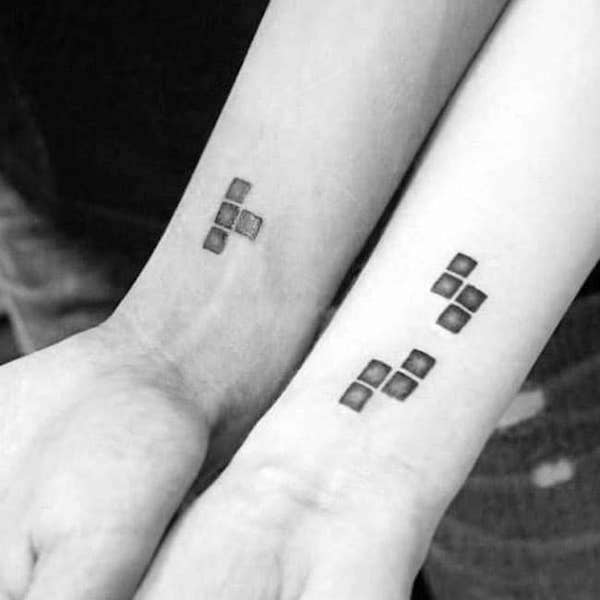 Tetris is a classic puzzle game known for its addictive nature. As matching tattoos, these Tetris blocks bring a touch of nostalgia while symbolizing the compatibility of two people.
Cute hand heart tattoos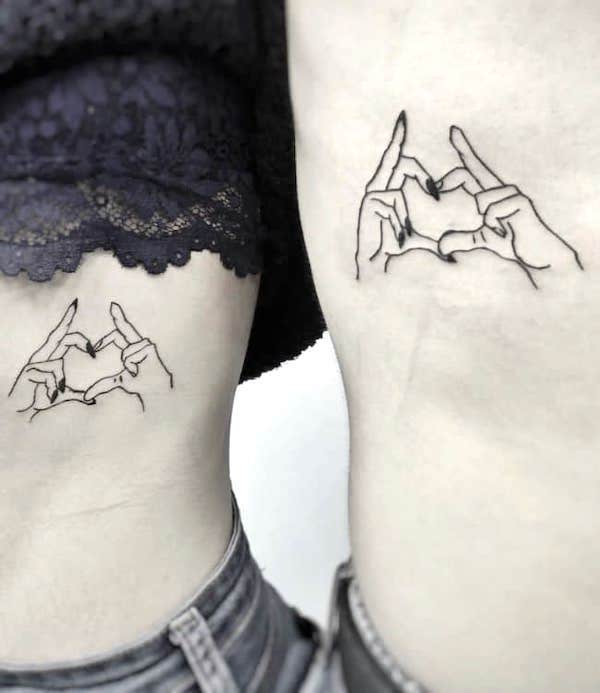 How cute are these heart gestures? If you observe closely, the hands actually come from two people, signifying the loving relationship of the couple.
Small hearts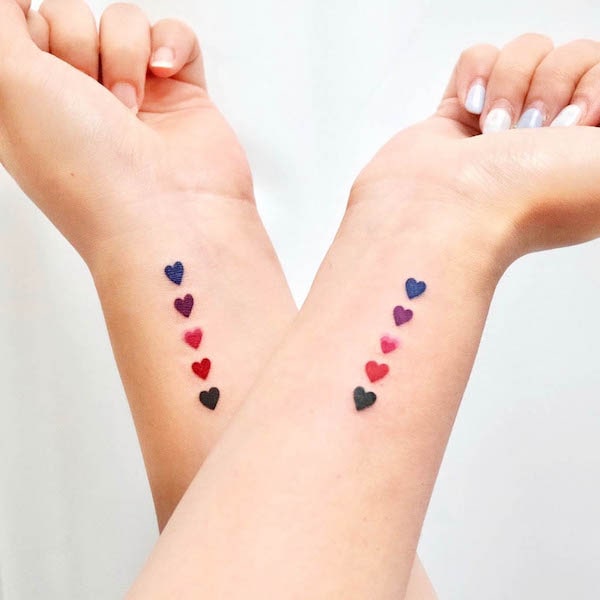 Heart shapes are one of the most iconic and beloved symbols in love tattoos, symbolizing affection and romance. These tiny heart tattoos aligned on the wrist allow couples to wear their hearts on the sleeve, quite literally. The hearts in five different colors also represent different stages of a relationship and emotions, adding depth to the design.
Croissant and coffee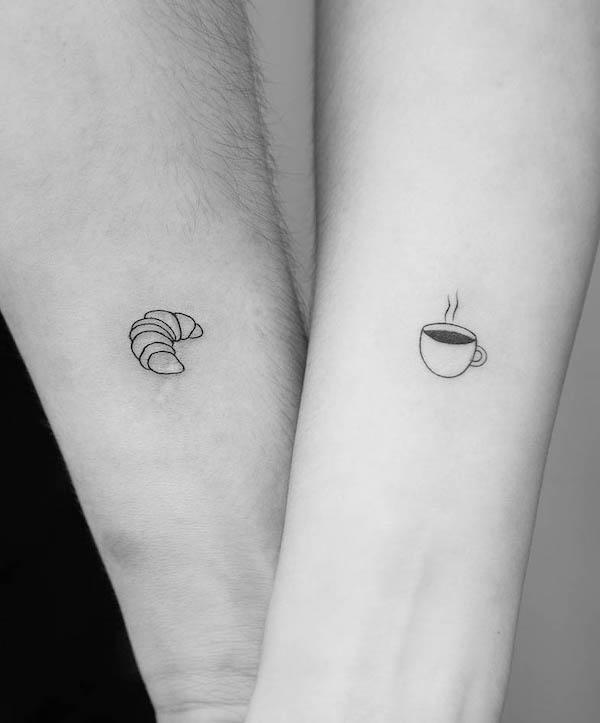 Croissants + coffee = the perfect brunch. If you and your bae are a match just like these two, these cute and playful food tattoos are for you.
Key and lock tattoos for couples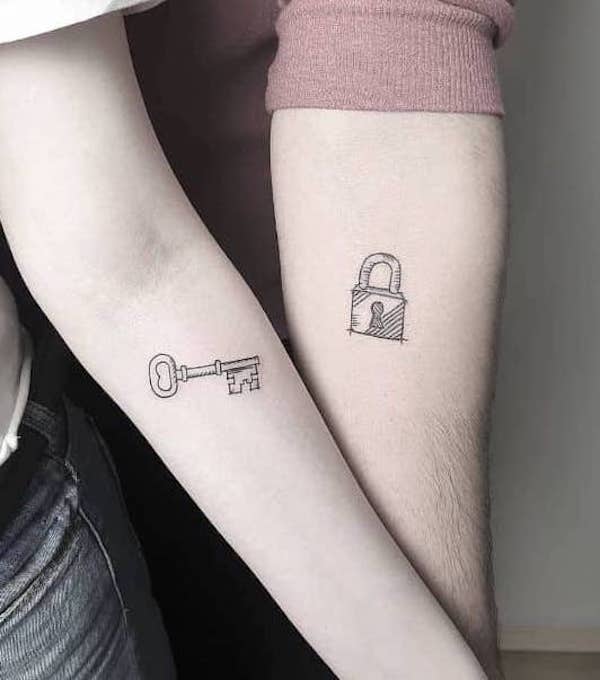 Keys and locks often appear in couple tattoos, embodying the idea that one person holds the key to the other's heart. Tattoos like these small key and lock represent trust, love, and the special connection within the relationship.
Missing puzzle pieces matching tattoos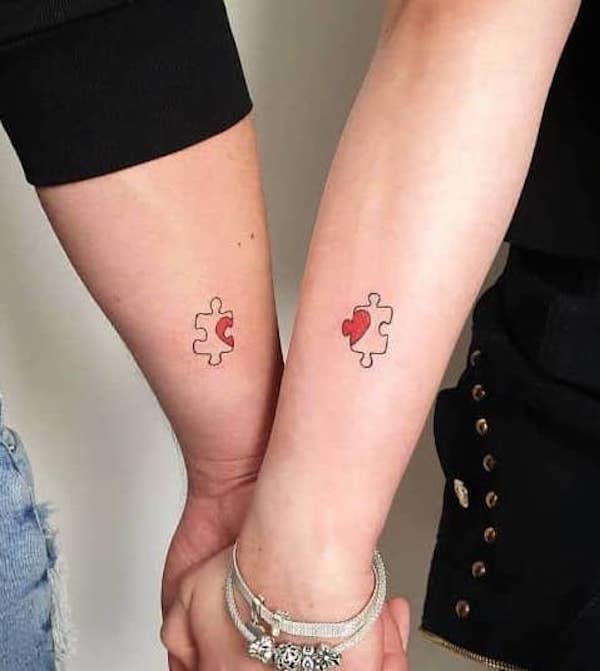 Have you found the one that completes you and makes you a better person? If so, these cute puzzle pieces are reminders that you are better together, fitting seamlessly into each other's lives.
Tea and teabag tattoos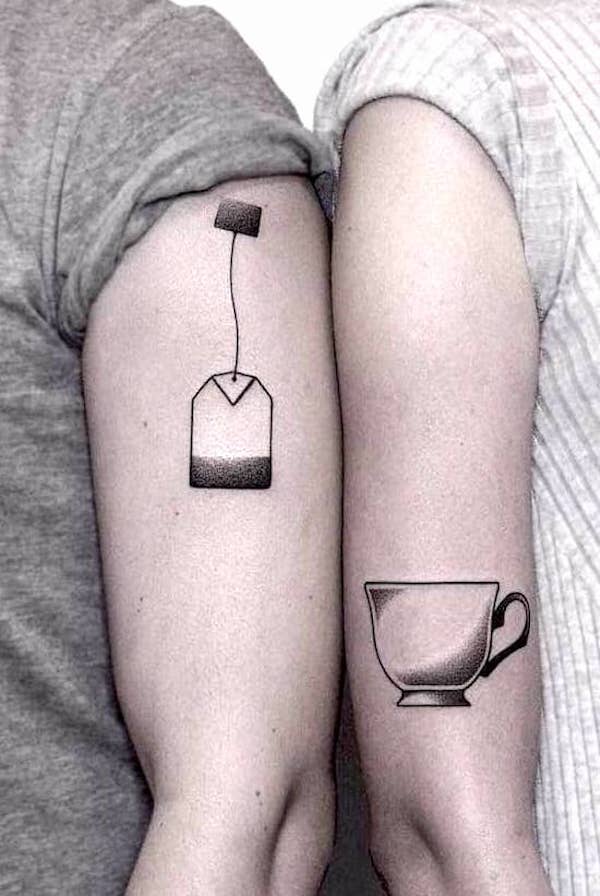 Emoji tattoos for police and firefighter couple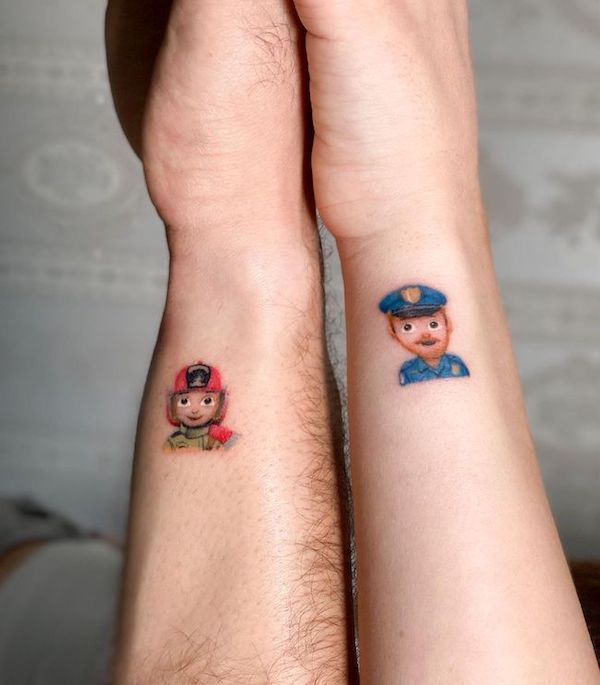 Couple tattoos are not always about matching patterns. Incorporating one's profession in the design is a creative way to celebrate individuality within a relationship. Take this police and firefighter tattoo, for example. It's a powerful representation of each partner's dedication, courage, and commitment to their careers.
Flirty lollipop tattoos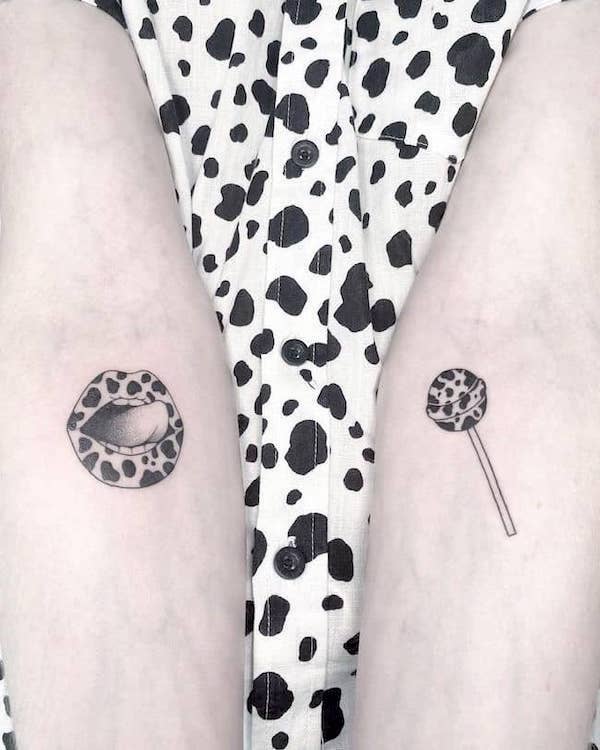 Lollipop and lips, candy and kisses – these whimsical combinations create the perfect recipe for super cute couple tattoos. Adding leopard patterns to the mix introduces an extra layer of playfulness and style to these designs.
Matching cat tattoos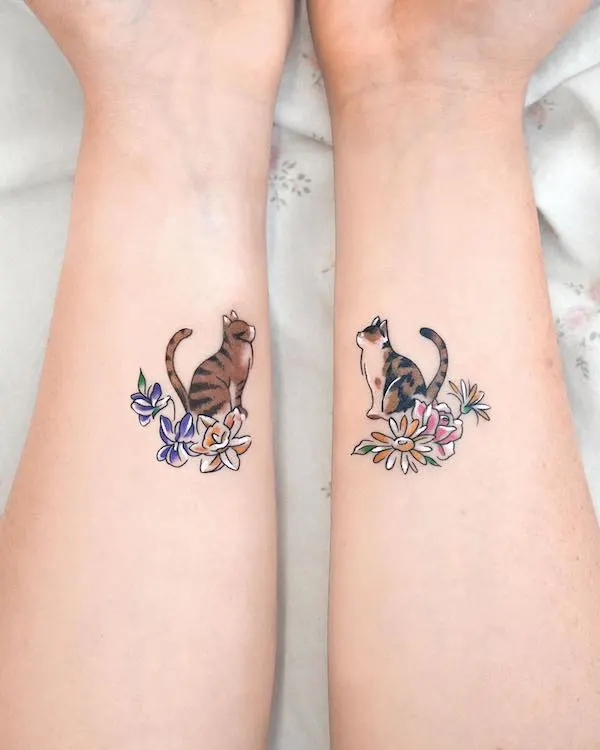 With such high exposure, forearm tattoos are not just ink but visual reminders. These matching cat tattoos from Tattooist Eden are a good example. By tattooing a small cat on the forearm, the wearers are constantly reminded of their flurry pals and their shared love for them.
Superman and Wonder Woman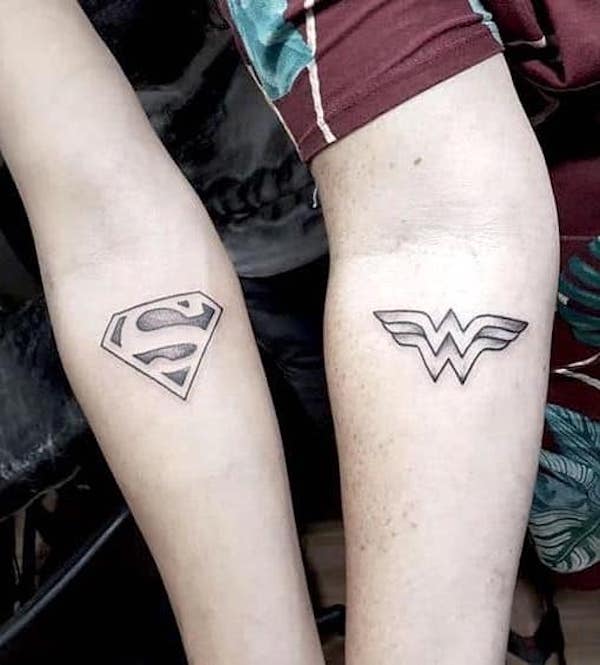 Who's a fan of the Marvel Universe? While not commonly seen as a pair, Superman and Wonder Woman are both iconic symbols of power and courage. These hero badge tattoos on the forearm pay homage to these heroic characters and celebrate the strong relationship between the two.
Soulmate lettering tattoos on the ankle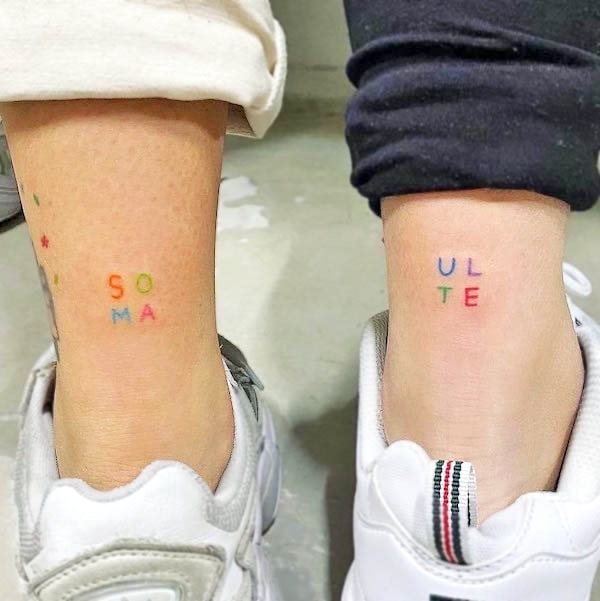 Tattoos on the ankles are increasingly popular as a way to showcase ink in an elegant and discreet manner. These script tattoos are a beautiful example of this trend. With the vibrant colors and unique design, they will be a reflection of a deep and hearty partnership.
Meaningful couple tattoos
Love is the most beautiful thing on earth. And each couple has their own unique love story. What better way to celebrate this deep personal connection than with meaningful couple tattoos? The following collection goes beyond mere aesthetics. They capture the memories, emotions, and shared experiences that make a relationship extraordinary.
Till next life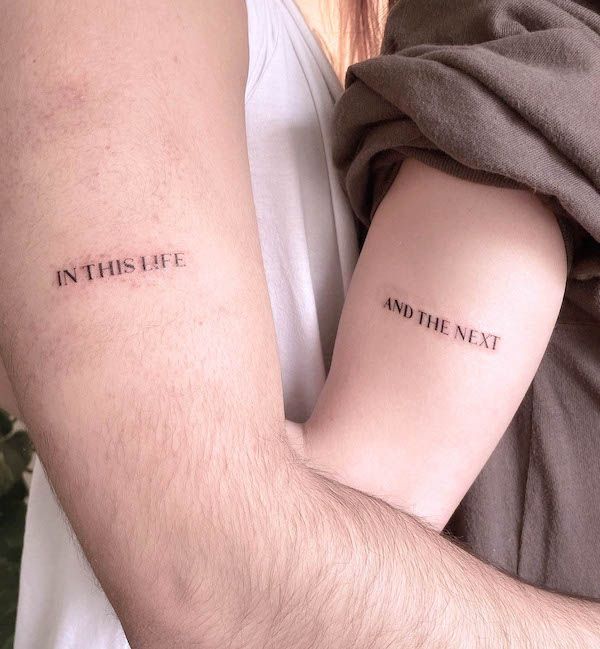 Lighthouse tattoos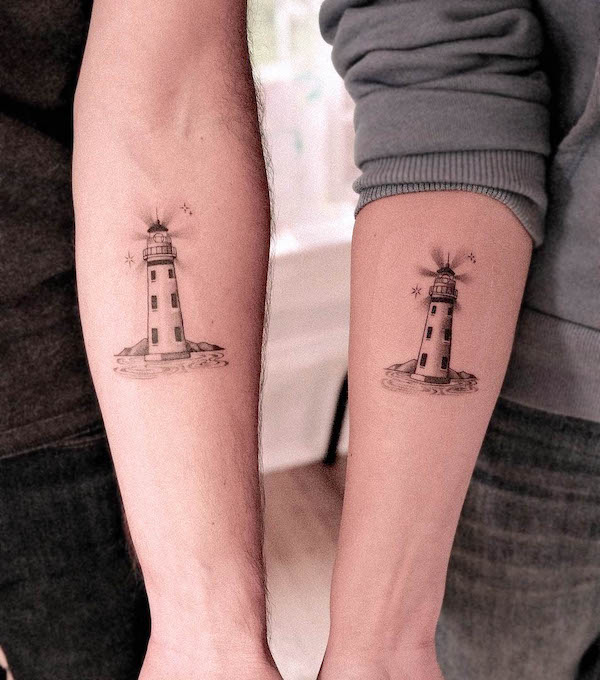 Lighthouses symbolize guidance and direction, serving as beacons in the dark to keep ships safe and on course. With a pair of lighthouses on the forearm, the couple celebrates their role as guiding lights in each other's lives.
Waves of love wrist tattoos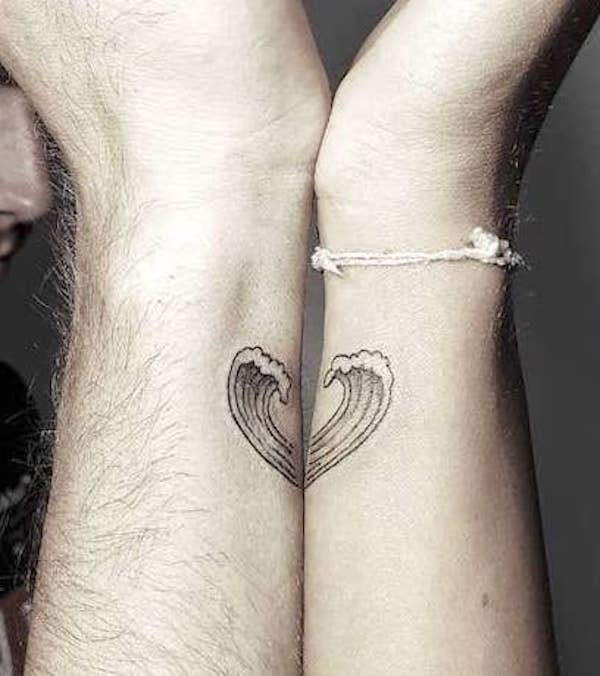 Wave tattoos are a powerful symbol of rebirth, new beginnings, and the force of nature. But they can also be a metaphor for intense emotions and affections. This is especially true in the case of these matching wave designs. In the form of a heart, these tattoos beautifully represent the profound love and connection shared by the couple.
Tie the knot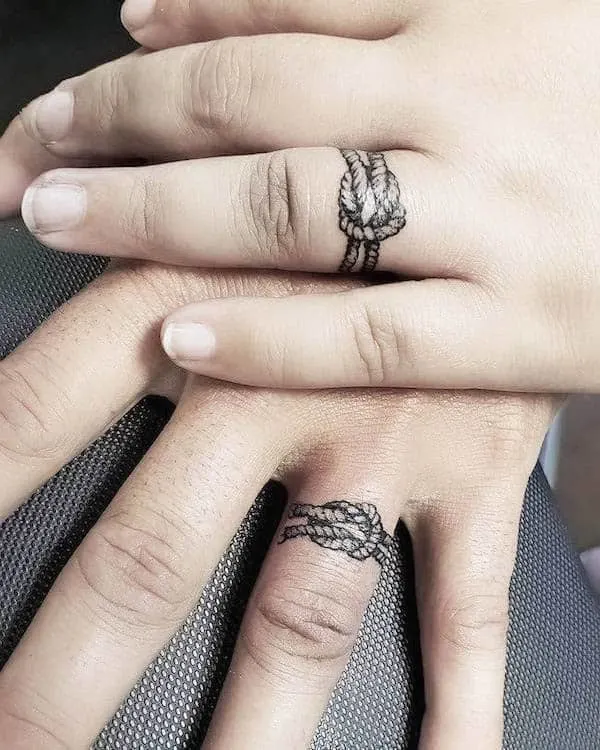 Tying the knot has been part of wedding ceremonies for thousands of years. And while it may not be the case for many couples these days, knots still represent a strong and ever-lasting marriage. These matching ring finger tattoos are the perfect representation of loyal and lifetime company.
Fingerprints on the heart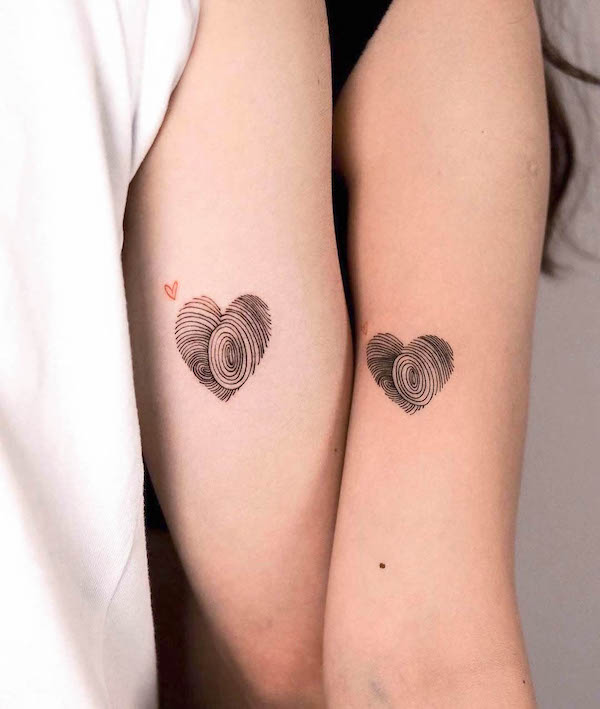 Matching semicolon tattoos
Semicolons are not just a punctuation mark but a powerful symbol of hope and resilience for mental illness survivors. Worn by a couple, these semicolon tattoos signify the strength and support each partner gives the other in their healing journeys.
Matching Tree of Life tattoos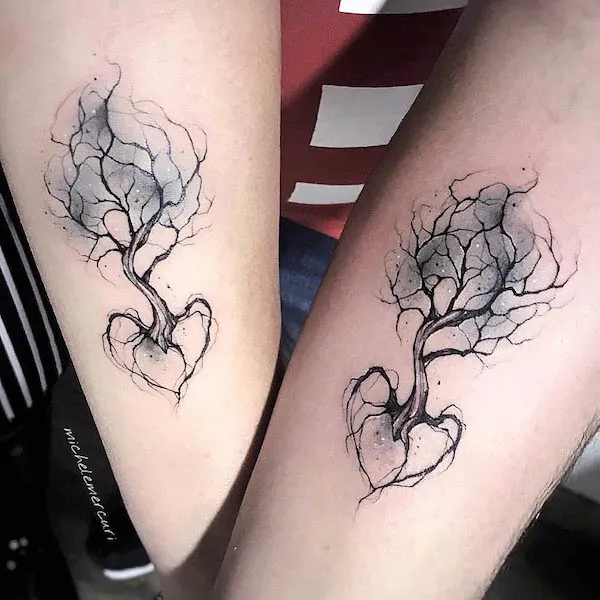 Tree of life tattoos might not be the first thing that comes to mind when you think about couple tattoos. But the tattooist brilliantly designs the roots in a heart shape, conveying that love can change one's life, making these tattoos so cute and meaningful.
Matching bow and arrow couple tattoos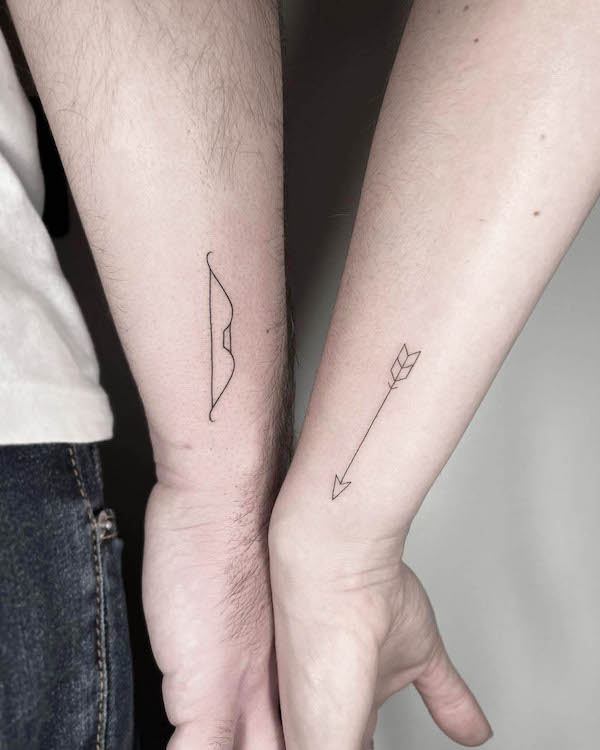 Bows and arrows are inseparable, like a loving couple. These adorable bow and arrow tattoos perfectly showcase the connection, symbolizing the idea that one completes the other.
Astronaut tattoos for travel couples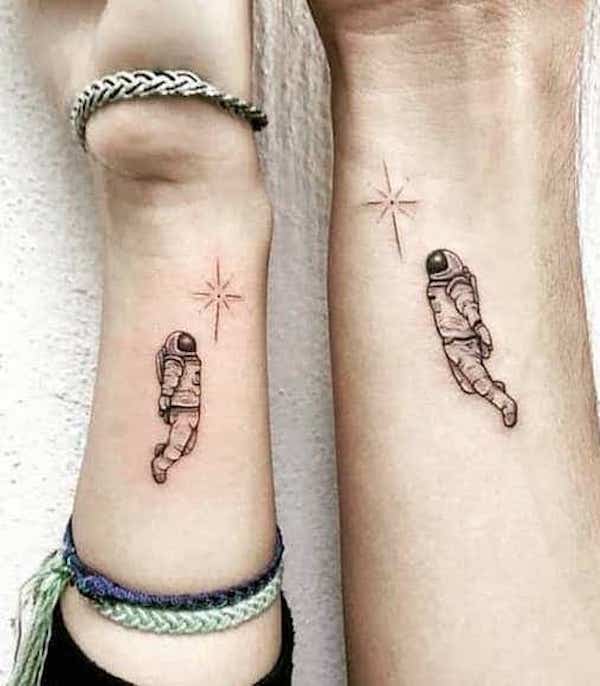 "With you, I have the courage to go beyond the sky." These intricate astronaut tattoos express the love for each other as well as the passion for adventures.
"Better together" pinky promise tattoos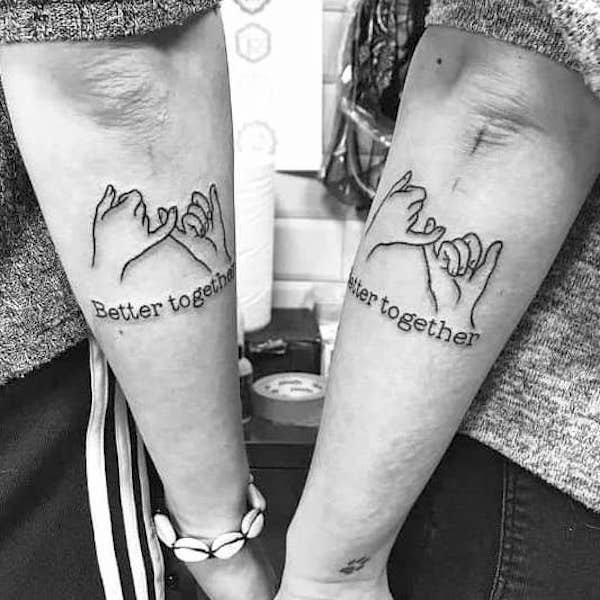 Matching bird tattoos on the arm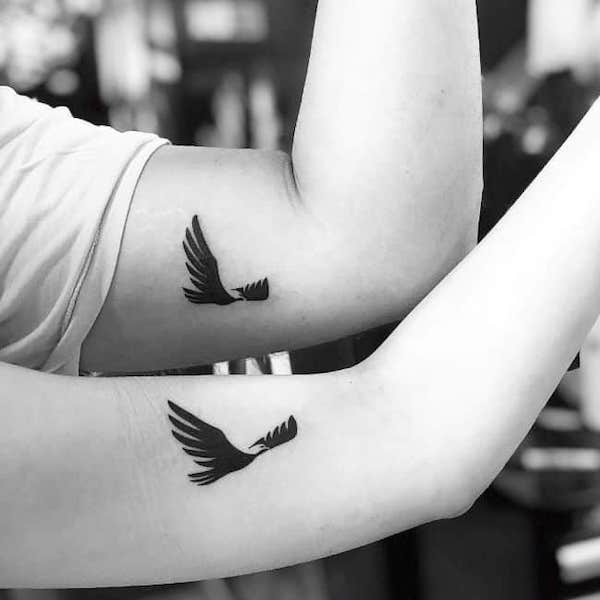 Birds make perfect couple tattoos as they symbolize freedom, unity, and the journey of life. Just as birds flying represent the freedom to pursue one's dreams, these bird tattoos celebrate the shared journey and mutual support within a relationship.
Map tattoos for long-distance couples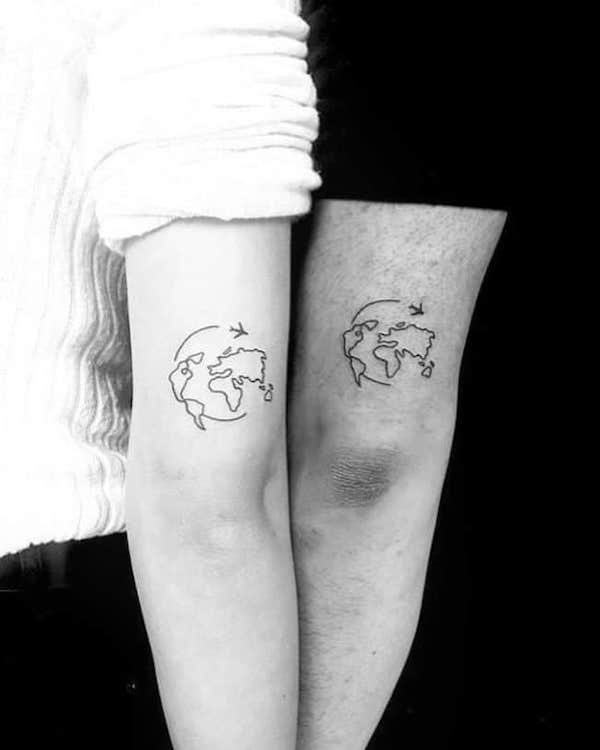 Distance is just a number when the love is real. These map tattoos symbolize a love that transcends physical boundaries.
Matching infinity bicep tattoos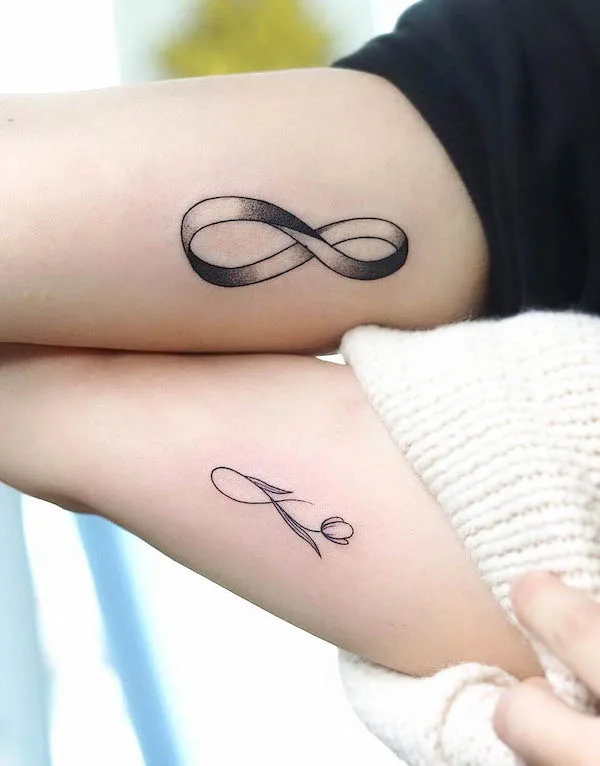 Infinity tattoos symbolize limitless possibilities and eternal love. These matching infinity symbols in different styles are a visual promise of undying love.
Matching dog tattoos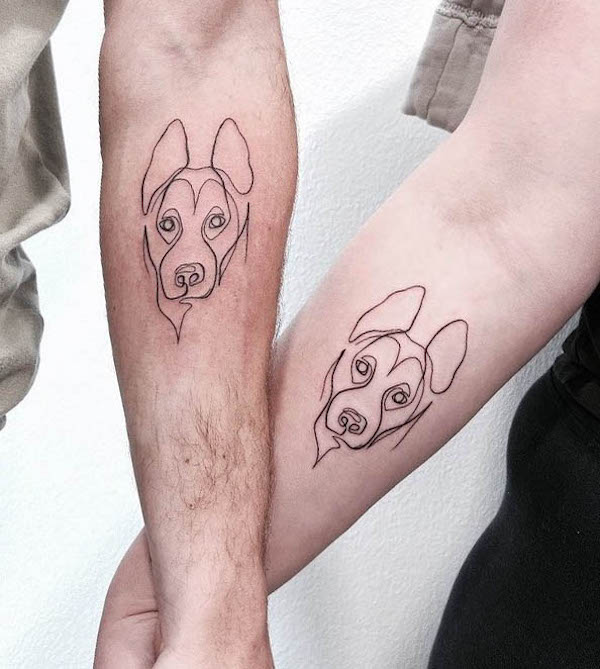 Dog tattoos are a heartfelt way to celebrate the bond between the pair and their shared roles as dog parents. It's a testament to the joy, love, and companionship that they all experience as a family.
You are my person quote tattoos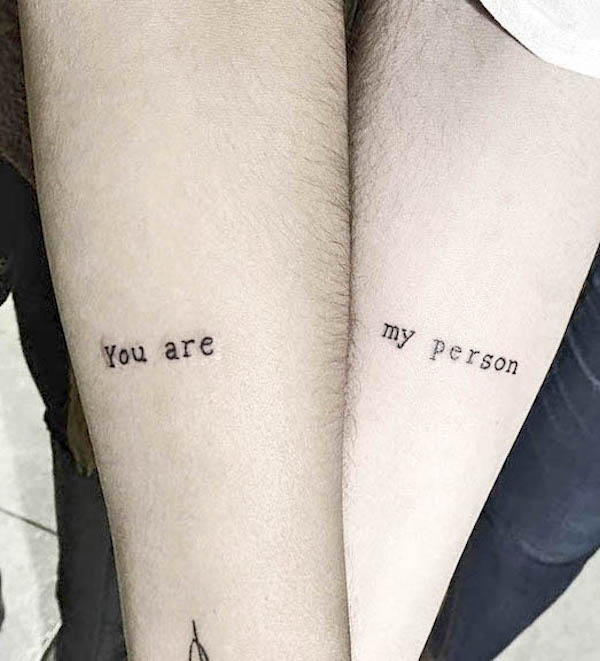 Make every day count arm tattoos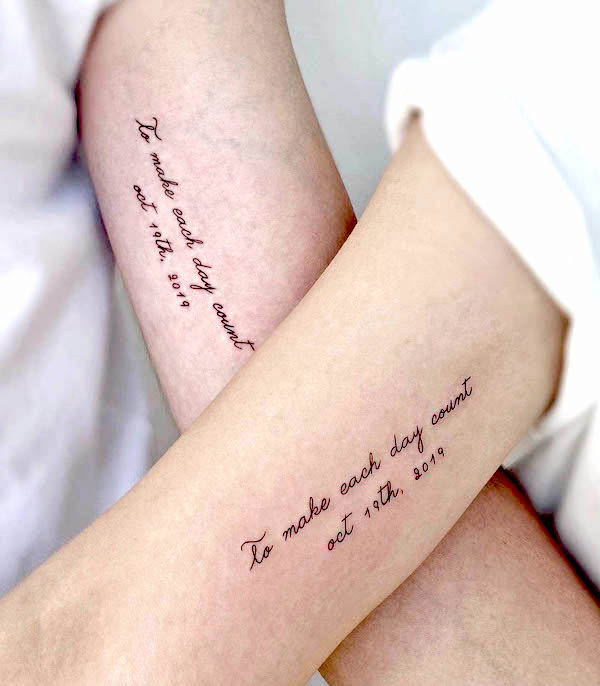 You are my last piece quote tattoos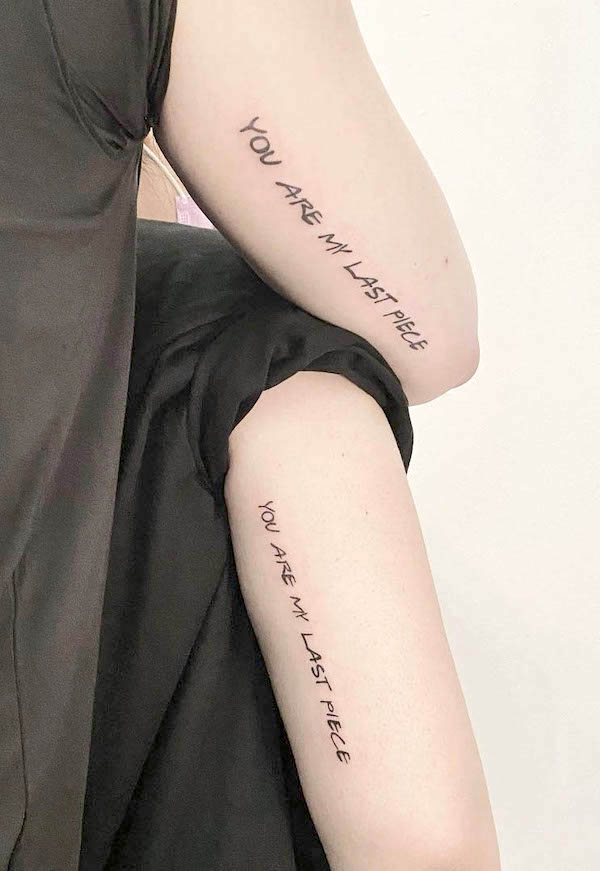 His and hers quote tattoos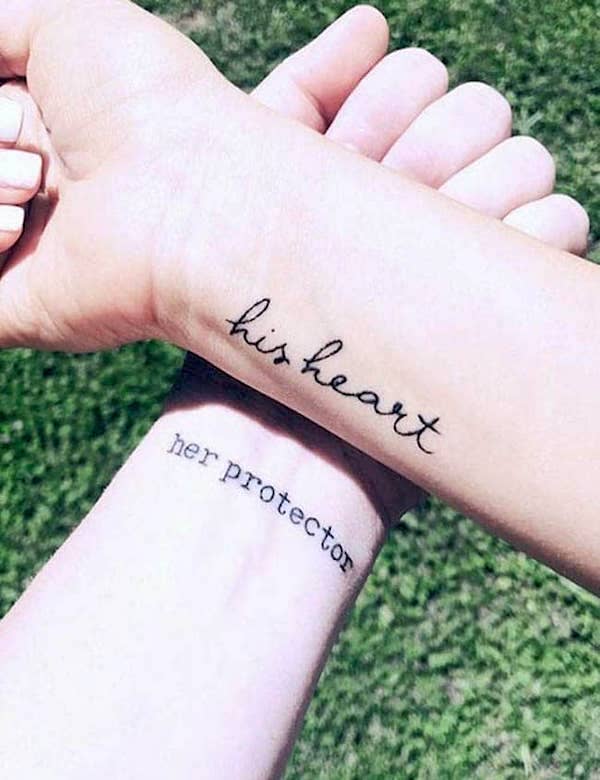 When the right person enters your life, they take on many roles: a lover, a family, a shelter, and a soulmate. These his and hers tattoos honor the importance of a Significant Other. They are more than a quote on the wrist but also a lifetime promise.
Promise tattoos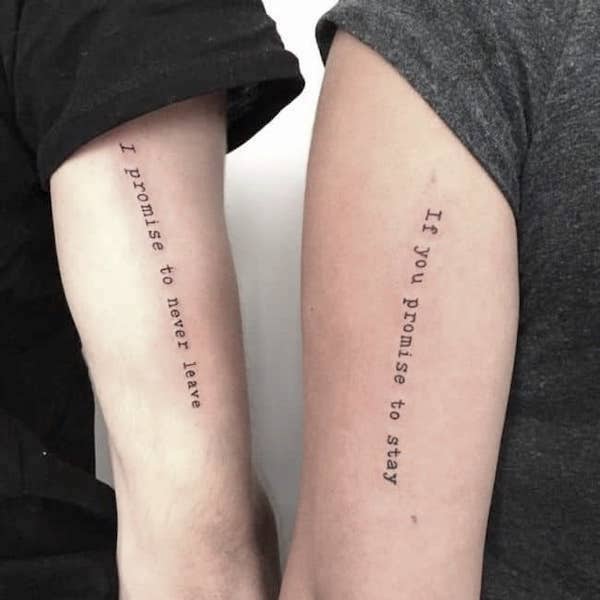 His only her one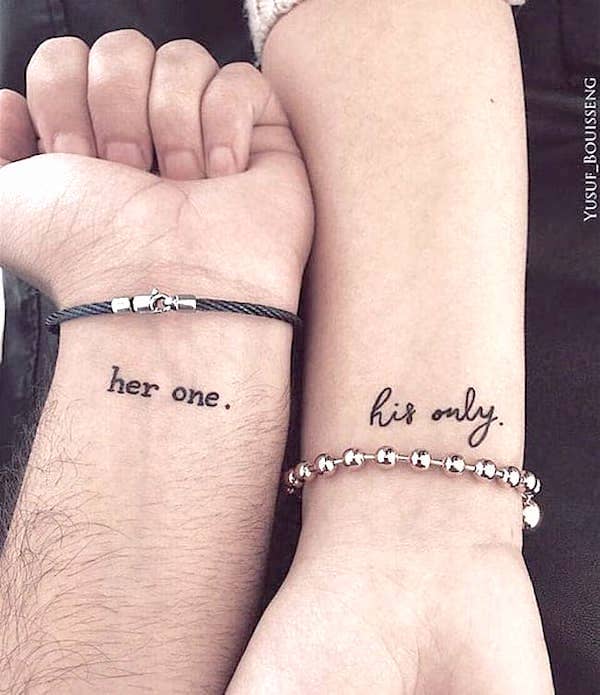 There's nothing more straightforward than a love quote on the skin. If you are looking for a line to express your deep affection for your partner, the following love quotes may give you some ideas.
More meaningful short love quotes for tattoos
His Yin – Her Yang
A sky full of stars – And I am looking at her
Live by the sun – Love by the moon
My journey – My destination
Love at first sight – Love for a lifetime
You brighten up my day – You light up my night
My forever – My always
I love you for you – You let me be me
Not perfect, but perfect for each other.
My heaven on earth.
You are my fairy tale
Me and you against the world
True love knows no distance
All I need I find in you
Pinky promise anniversary tattoo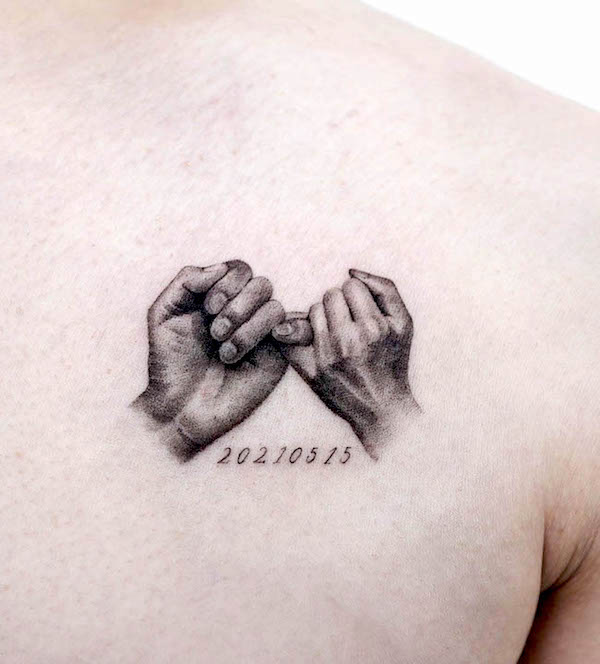 Anniversary tattoos, just like any couple tattoos, are a way to express love and celebrate the special day. This pinky promise back tattoo has the anniversary date on the bottom. It will be a lifetime reminder of how grateful the couple is for the relationship.
His and hers tattoos for couples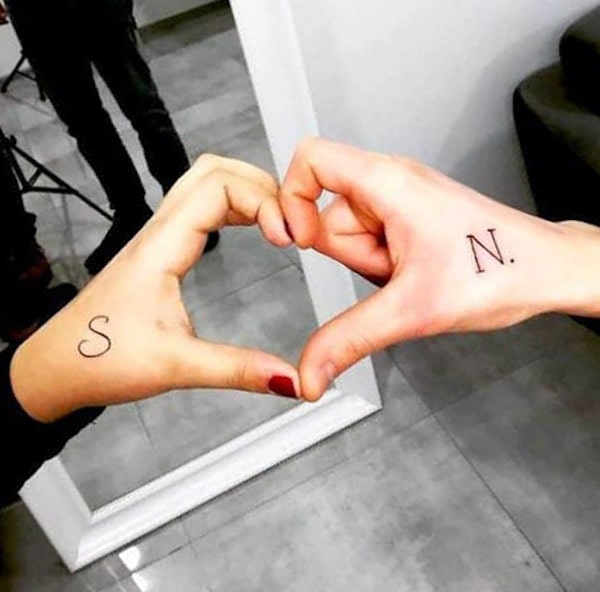 Nothing says more about your love than tattooing his name on your skin. Just like marriage, you take his last name as yours. These initial tattoos are simple, meaningful, and perfect for married couples.
Which of these couple tattoos is your favorite?
We hope you've found the designs for you and your Significant Other. Tell us in the comment which one you like the best!